I've hand-selected each of these home kitchen equipment items for their function, durability, utility, or function. I have not been paid, endorsed, or otherwise received any monetary form of compensation from the product manufacturers of these items. I do not accept "pay for good review" submissions, and genuinely have a vested interest in providing non-influenced recommendations to you.
2023 10 Best Kitchen Gadgets & Gizmos are:
1. Cosori Air Fryer Max XL 5.8 Quart
This air fryer was also my 2022 top pick, and again makes the list for 2023! Air fryers have been all the rage for years now, and there's a good reason. They make quick work out of cooking fried foods without extra calories from oil or smoking up your kitchen with splattering hot grease. However, the number one complaint most air fryer users have is that the capacity is always too small.
The Cosori Air Fryer Max XL 5.8 Quart comes in a variety of colors, and is truly the answer to your prayers! This very large-capacity air fryer will make quick work out of your favorite fried foods. Check out my recipe for the best air fryer chicken wings that you can make in just a few minutes in your new air fryer!
Want to do more with your air fryer? Check out the Air Fryer Cheat Sheet Recipe Guide which features Over 120+ food entries in 5 categories: Bakery, Desserts & Snacks, Poultry & Seafood, Lamb, Pork & Beef, Legumes & Vegetables, Frozen Section. This well-researched guide has accurate info at the flip of a finger so you can conveniently instantly find ideal cooking times so you can get your meal prepared fast!
2. Mercer Culinary Genesis 5 Piece Kitchen Knives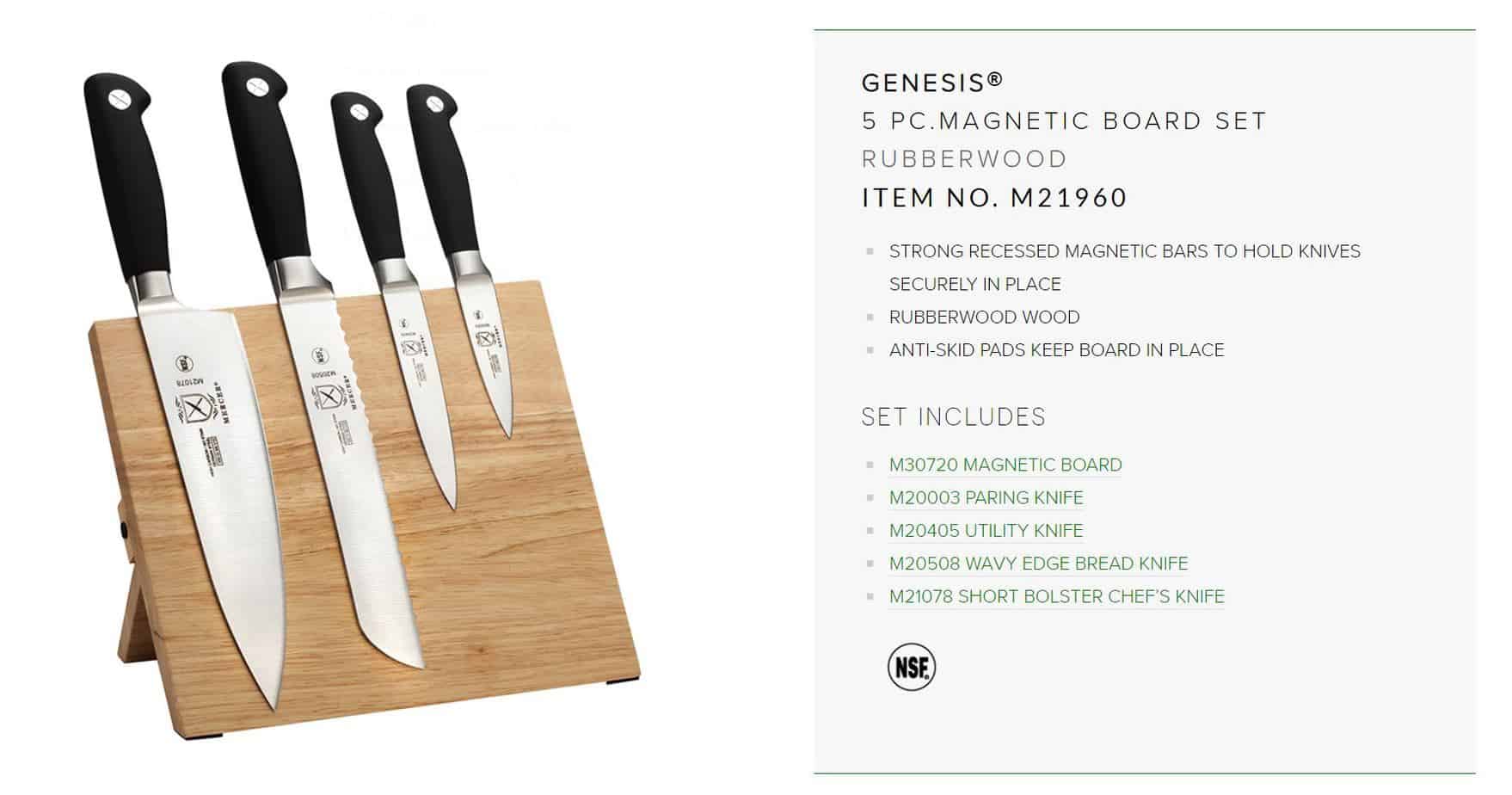 These knives are built to last! From the experts of all things cutlery, The Mercer Genesis Series 5 piece knife set features incredibly superior blade durability, a nonslip Santoprene comfort grip, NSF certification, and is backed by an incredible warranty.
As a professional chef, these knives are the exact ones I have been using every single day for nearly a decade now. This basic 5 piece set features almost all of the knives you will need for at-home cooking. A chef's knife, a bread knife, a utility knife, and a paring knife.
The best way to care for your fine kitchen knives is just to wash them in hot water with a little non-abrasive dish soap, and towel dry them. A good set of knives will last a lifetime if you follow two easy steps: Never put your kitchen knives in the dishwasher, and always have them routinely professionally sharpened at least once or twice a year by a reputable cutlery sharpening company. This is no time to utilize that random vendor at your local flea market or take your knives to a random bait, tackle or outdoor hunting knife, or hardware store my friends.
3. Meater Plus Wireless Bluetooth Instant Read Smart Thermometer
Every kitchen on the planet needs a trusted instant read thermometer. Sit back and relax while you monitor your cooking progress with the integrated smartphone app.
Featuring a 165 foot wireless Bluetooth range, the Meater Plus Bluetooth Smart Thermometer from Traeger Grills is actually 2 thermometers in one. The wireless battery-powered probe monitors both the internal cooking temperature of meat or the dish you're cooking, but also the ambient air temperature surrounding your food. Gone are the days of having to "guess" if the item you are cooking is done or up to a safe temperature to consume.
The Meater+ smartphone app is for both iOS Apple and Android powered smartphones and allows you to wirelessly monitor the probe from the comfort of your easy chair while your dishes cook to perfection. The app also features an advanced algorithm built in to give you done time estimates so you can plan the remainder of your meal around when your item finishes cooking.
Is your grill or oven farther away than 165 feet? No worries, Traeger has you covered with the optional Meater Wifi Extender and Cloud features as well.
4. 4 Piece Bamboo Cutting Board Set
A knife safe cutting board set is an absolute must have in every kitchen in the world. This 4 piece bamboo cutting board set from Royal Craft Wood has all of the most commonly utilized sizes that you would ever need.
The importance of using the right cutting surface is paramount to keeping your knives sharp, and preventing damage to both your knives and your kitchen surfaces. Bamboo cutting boards are naturally anti-bacterial, sustainable, and foodsafe. With proper care, these natural bamboo wood cutting boards will last you for a very long time. Check out our article on how to properly care for your wooden cutting boards here.
This Royal Woodcraft 4 piece set has bamboo cutting boards in 18″ x12″x0.75″, 15"x10"x0.6", 12"x8"x0.6", 9"x6"x0.6" sizes. Complete with a juice groove which makes them perfect to use not only as cutting boards, but also for carving meats, and other juicy items such as vegetables. The juice grooves will prevent the juices from running all over your countertops and keep your workspace clean even during the busiest of cooking tasks.
More than just cutting boards, these sustainable bamboo carving boards can be used for serving, charcuterie boards, cheese displays, etc.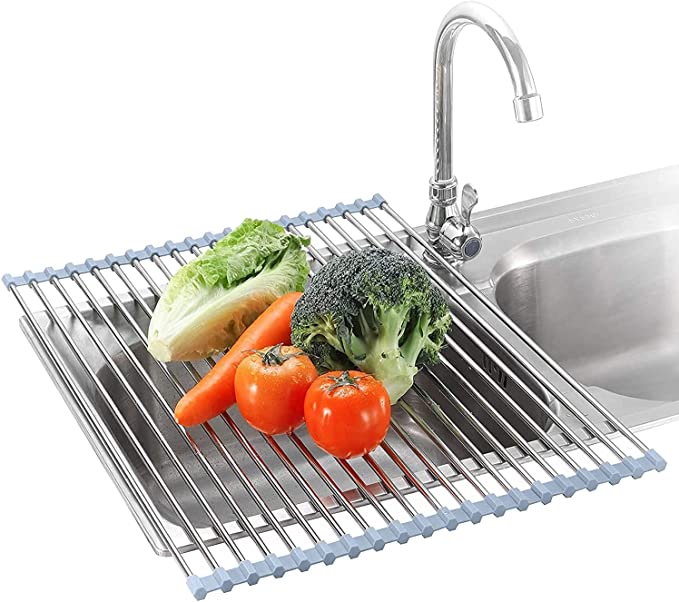 5. Rollup Silicone Dish Rack
Who wants a mess when doing the dishes? Water all over your counters, running onto the floor? The Rollup Silicone Dish Rack comes in multiple different sizes to fit virtually any kitchen sink.
After you've finished rinsing the dishes, simply roll out the dish rack over the sink and let your dishes drip dry without having to worry about bacteria from a dishtowel. Made from sturdy 304 stainless steel, and able to hold up to 33lbs. BPA free, and can easily be tossed into your dishwasher as well for sanitizing purposes if desired.
Also head resistant up to 400 degrees F, and doubles as a hot pad to protect your countertops. When you're done simply roll it up and put it away in a drawer or under your sink. Perfect for RVs as well to help create extra dish draining space.
6. Multi-Tier Lid, Pot & Pans Organizer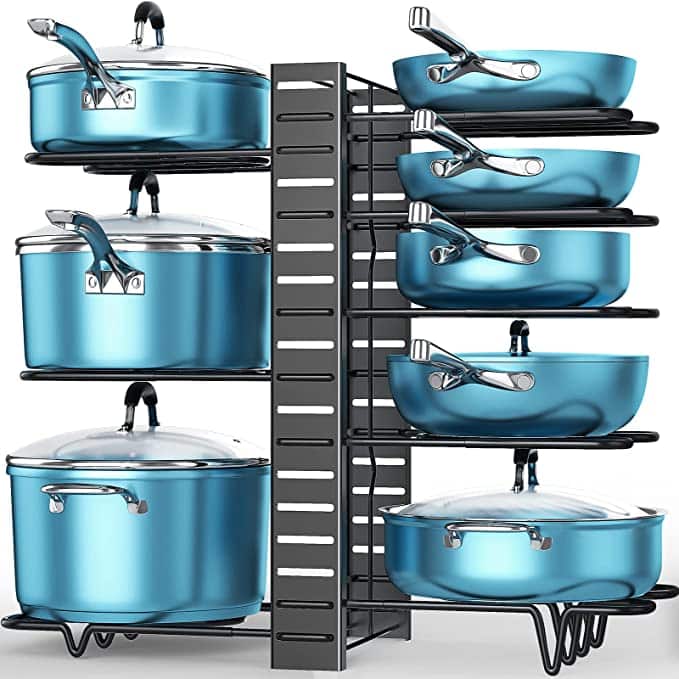 We all struggle with organization in our kitchens. Especially when it comes to our pots and pans, and their pesky lids that always seem to disappear or migrate to the back of the cabinet where you can't easily find them.
The 8 Tier Pot and Pan Organizer gives you the freedom to easily organize all of your pots, pans, and their lids and keep them tidy and readily accessible in your cabinet. Built with heavy duty use in mind, this fully adjustable pot and pan tower allows you to custom tailor it to fit virtually any size cookware you may have, large or small. Available in black or chrome.
Keep your cookware from denting or getting scratched! Say goodbye to digging under piles of pans to get the one you need at the bottom; stack your cookware on this rack, eliminating countertop clutter and getting all your cookware within each reach as you cook; no stress, and no hesitation; achieve a clean and orderly kitchen with this pan organizer rack
7. DiOro High Temperature Silicone Cooking Utensil Set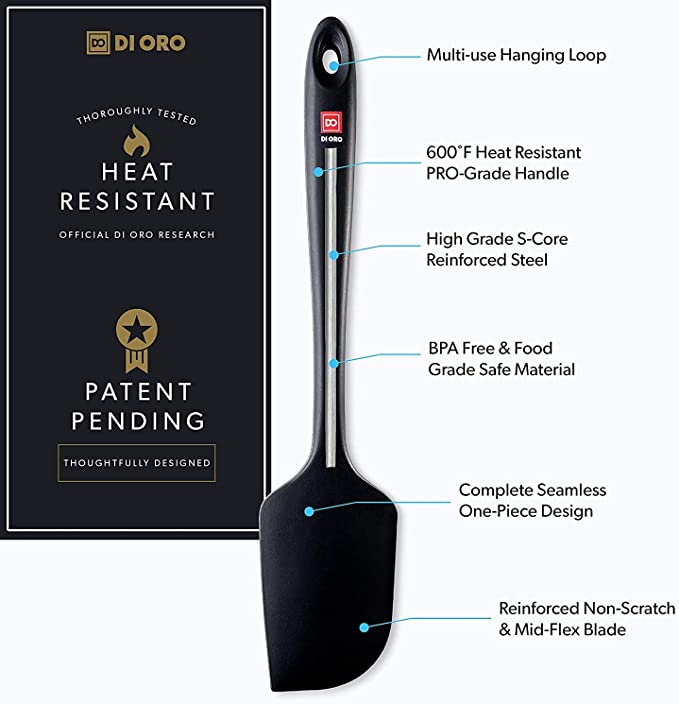 The DiOro High Temperature Cooking Utensil Set is made in the USA from durable high heat tolerant silicone. Most other brands of silicone utensils only withstand heat to around 400 degrees. The DiOro Utensils are heat resistant all the way up to 600 degrees to allow for safer cooking at higher temperatures.
Made from BPA free food safe material, you know that your family and food will remain safe from chemicals potentially leeching into your food from those other offshore made utensils. Silicone utensils are safe for use on all types of cookware, especially non-stick, so no worries about scratching or gouging your cooking surfaces.
This four piece set features spatulas of varied different widths to allow for stirring, scraping, mixing, folding, deglazing, etc. The handles are comfortable to use. Dishwasher safe, and made in the United States of America. Made from a seamless one-piece design, you don't have to worry about food getting stuck in little cracks and potentially breeding bacteria. Comes with a forever warranty from DiOro.
8. Anova Culinary AN500 Professional Sous Vide Precision Cooker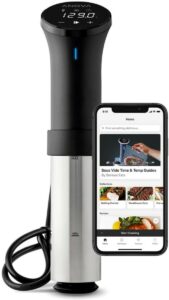 The Anova AN500 Professional Sous Vide Precision Cooker sits on my kitchen counter and never gets put away. I was fortunate enough to be on the Beta testing team for this device prior to its release and I now proudly own two of them. Sous Vide, or precision water bath cooking at home allows you to cook virtually anything perfectly without ever under or overcooking the food, as it will never get hotter than the water temperature that you set.
It doesn't matter if you're preparing chicken, beef, pork, vegan or vegetarian meals, eggs, or pretty much any other type of food. The Anova allows you to "set it and forget it" while being able to monitor the cooking process of your dish with the free Anova smartphone app for iOS or Android.
Anova makes several models of precision cookers, I prefer this Anova AN500 Pro model due to its ability to quickly heat up the water, and to maintain temperature accurately when cooking larger batches of food. Yes, you too can take a frozen piece of meat, place it into the sous vide bag, and cook it to perfection with this kitchen countertop immersion circulator.
One of my favorite non-cooking tricks to do chill wine in a hurry with your sous vide!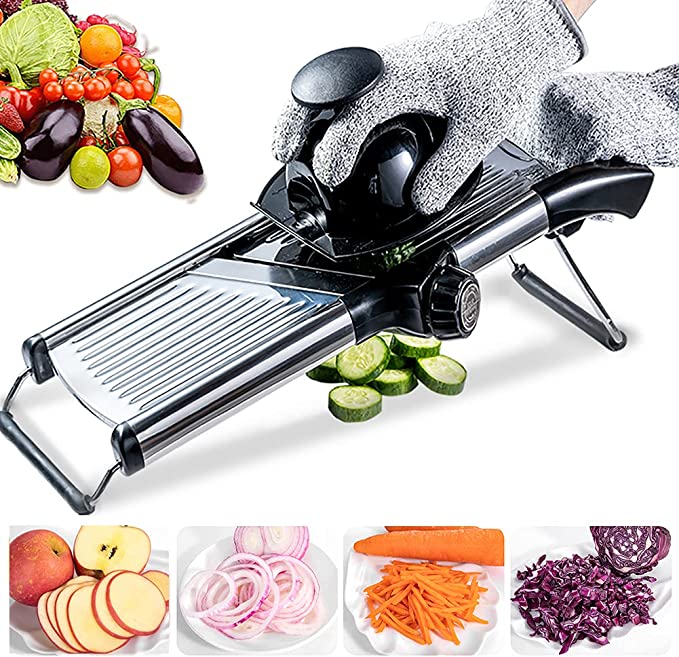 9. Stainless Steel Mandoline Slicer
The VEKAYA Stainless Steel Mandoline Slicer packs razor sharp slicing precision without the fatigue of using a knife into this beautiful stainless steel and easy to store slicer. Perfect for those who love uniformity in their slices, shreds, or cuts. The built in ultra sharp blade does both conventional and julienne slicing with just a turn of the dial. Slice from paper thin all the way up to 9mm thick.
Complete with safety gloves and a blade guard, this stainless steel mandoline slicer is smooth and stable, allowing you to make quick work of large slicing or shredding projects.
Make delicious french fries or chips at home that will all cook up perfectly uniformly by using the VEKAYA stainless steel mandoline slicer. Makes a great wedding or first time homebuyer gift as well!
10. Silicone Ice Block & Ice Ball Mold Set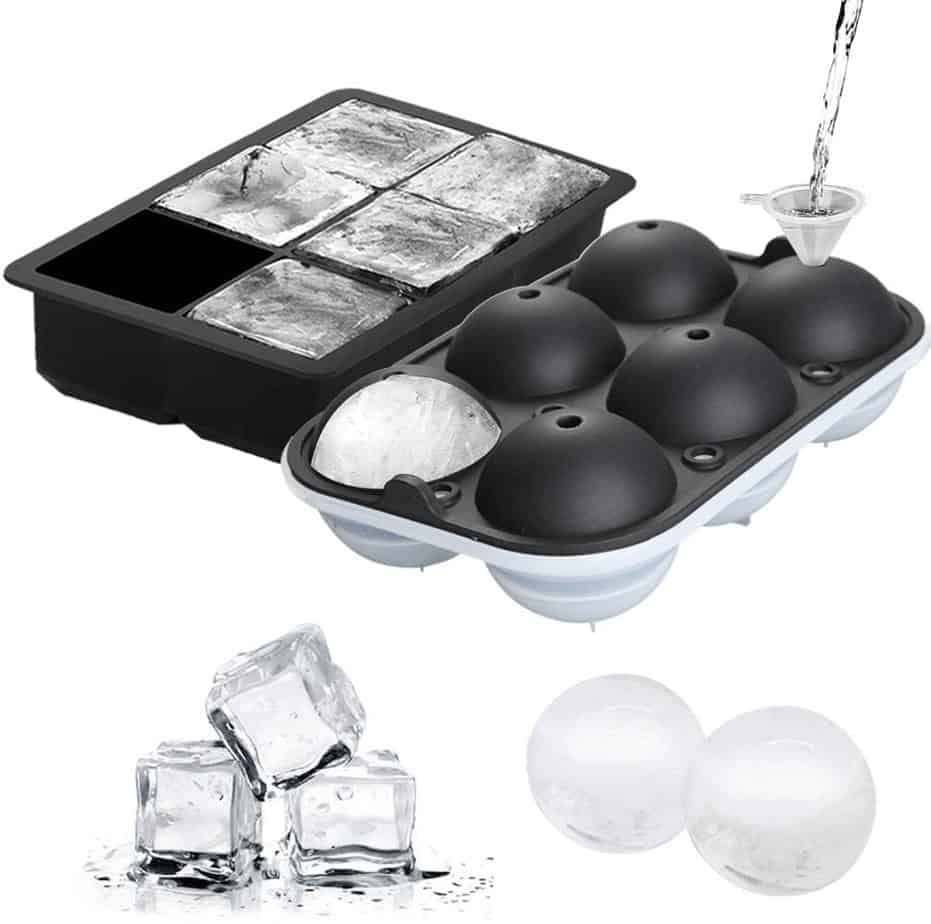 The popularity of all things whiskey in the last few years has been tremendous. This Ice Cube & Ice Ball Mold Set lives on the top shelf of my freezer! If you are a whiskey aficionado, lover, or admirer, these are the silicone ice molds for you.
These durable silicone ice molds make six of the most perfect large single cubes, and six 2-inch sphere ice balls for chilling down your favorite bourbon, whiskey, brandy, or cocktail spirits without the rapid dilution that you get with small traditional ice cubes. A little mini funnel is included to make filling the ice ball mold quick and easy. Both silicone ice molds also are stackable, to help save you valuable freezer space as well.
Are you a kitchen gadget manufacturer? We want to review your products!
If you are a manufacturer of kitchen gadgets or gizmos, and would like to have our Certified Master Chefs review your product for possible consideration on our list? Please reach out to us! We evaluate hundreds of products every single year and update our list regularly during the year as new products and innovations emerge.
---
Check out our other recipes, tips & tricks for Easy, Effortless, Entertaining from AWG Private Chefs!
About the Author: Certified Master Chef, Sommelier & Wine Educator, Sean Andrade is the executive chef/owner of AWG Private Chefs, named the #1 Private Chef company in California. Chef Sean has worked in the restaurant and hospitality industries worldwide for more than 25 years. His company AWG Private Chefs offers highly custom-tailored, bespoke private chef dining experiences, and private event catering in over 30 countries around the globe.