Get in the holiday shopping spirit with spectacular gifts that'll have everyone feeling festive.
If you're in the middle of planning out all your Christmas shopping, you've come to the right place. Thanks to online ordering, getting Christmas gifts for the holidays is easier than ever. Whether you're shopping for Mom and Dad, your bestie, boss, or boo, these coveted Christmas gift ideas are guaranteed to make anyone's holiday special. From the latest tech gadgets to hot new toy trends, we've found more than 70 top gifts that they'll be thrilled to find under the tree.
Best of all: You don't have to spend big to score the ultimate present. Most of these awesome finds fall within the affordable under $50 category, so you can blow your giftee away without busting your budget. Use the money you'll save to spoil yourself with something special, or choose to donate it to a noble cause. It is the season of giving, after all.
And while it's nice to know that 2-day shipping exists (Amazon Prime is a true Christmas miracle), shipping delays are still common, especially around the holidays, so we recommend starting your gift shopping now. You wouldn't want to rely on that as your only gifting strategy, or — gasp! — pay extra for express shipping at the very last minute.
We've done the hard work for you and selected the very best Christmas gifts of 2022. So relax, binge-watch all of your favorite holiday movies, and enjoy the Christmas season knowing that everyone on your list is taken care of.
1
FOR STRUGGLING SLEEPERS
Sleep Aid Device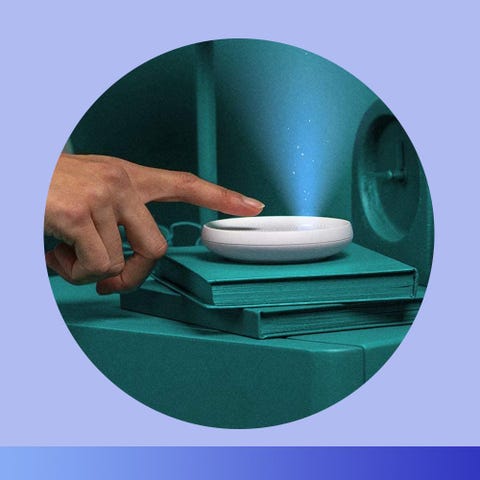 Give the gift of sweeter dreams with a genius sleep aid device that'll permanently put your recipient's troubled nights to bed.
An illuminated metronome system will teach them how to doze off naturally with an expanding light that'll prompt them to breathe in and retract when it's time to breathe out.
2
Classic Bidet Toilet Seat Attachment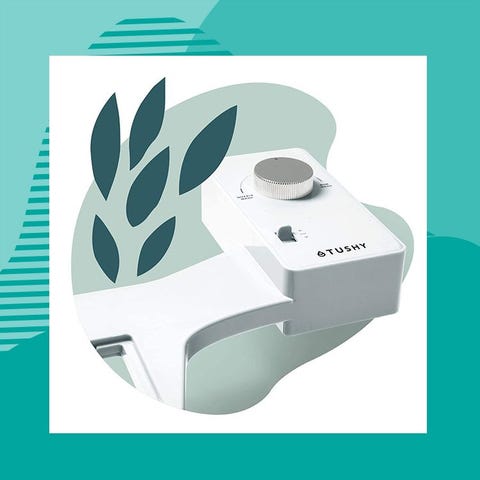 FOR THE SPA LOVERS
Classic Bidet Toilet Seat Attachment
It may seem strange to opt for a bidet as a Christmas gift, but let's be real: It adds a bit of spa-like luxury to any bathroom. Trust us — we've tried it. This option by Tushy has pressure and angle control, so it's bound to be just right for whomever you gift it to.
3
BEST RAVE-WORTHY HAIR TOOL
One-Step Hair Dryer & Volumizer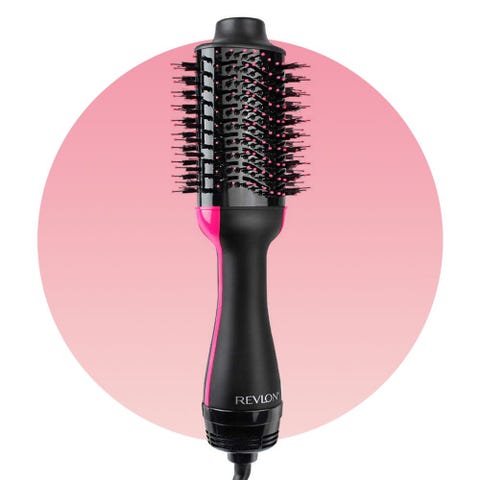 Now 19% off
$32 AT AMAZON$35 AT WALMART$33 AT BUY BUY BABY
For salon-quality blowouts they can achieve at home, this detangling hot air brush will leave her hair dry, silky, and super volumized. Its unique oval shape allows for extra lift at the roots and curlier ends, so they'll never miss using a traditional blow dryer. This is one Christmas they'll never return.
4
FOR THE OUTDOORSY-ISH ONE
Portable Campfire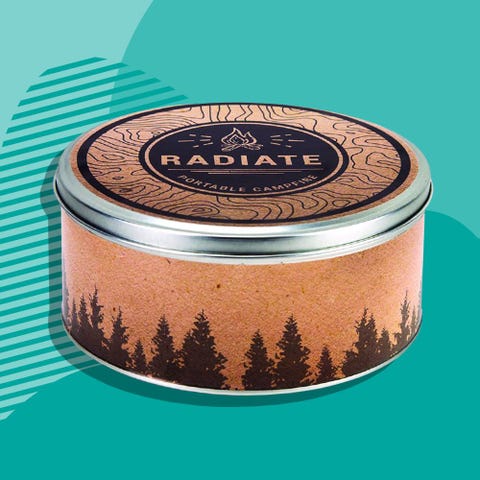 For anyone who loves to sit back and relax near the campfire but doesn't have the space or wherewithal to build one, gift them this nifty little thing for Christmas.
The candle-like "campfire" has 3 to 5 hours of burn time and is sleek enough to bring the campfire wherever — be it the beach, the backyard, or anywhere else!
5
THE PERFECT CROSSBODY
Kelsey Crossbody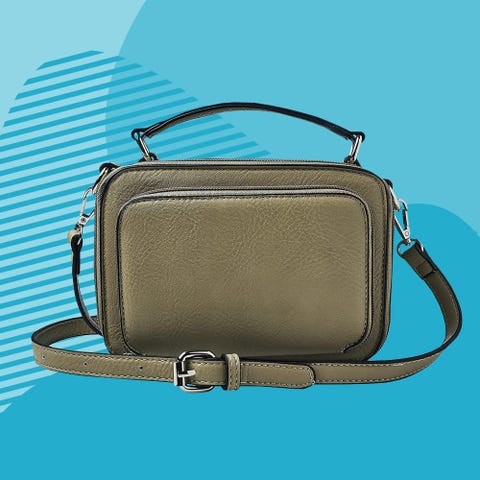 Inspired by the silhouette and functionality of a classic camera bag, this crossbody cutie will keep all your essentials organized and safe without weighing you down. It has two large zippered compartments to stow items like your wallet and sunglasses and a smaller outside pocket to fit your phone or other slim belongings.
6
FOR THE TECHIE WHO LOVES MUSIC
AirPods Pro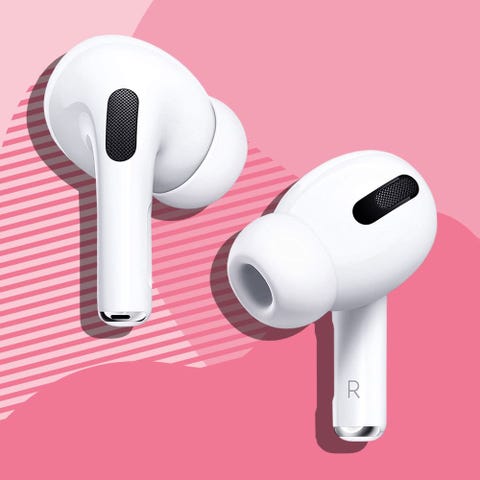 Now 28% off
$180 AT AMAZON$200 AT WALMART$215 AT B&H PHOTO
Begone, wires! Music junkies who always have their headphones on will seriously appreciate the wireless technology these AirPods offer. Unlike the original AirPods, they feature superior active noise cancellation, complete with transparency mode for clearer hearing and connecting. If you're feeling extra generous, add a case to protect their new wireless earbuds.
7
FOR THE MINIMALIST-MINDED CHEF
Always Pan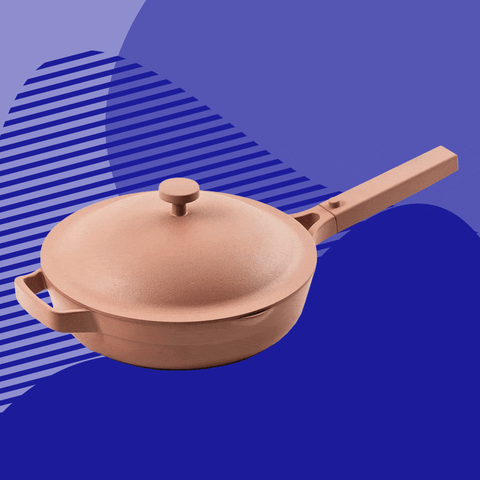 The seemingly minimalist design of this sophisticated pan conceals a complex secret inside. It's actually eight pieces of cookware in one, containing a frying pan, sauté pan, steamer, skillet, saucepan, nonstick pan, spatula, and spoon rest in a single simplified unit, making it an ideal Christmas gift for apartment dwellers who are tight on room.
8
FOR THE COZY CONNOISSEUR
Warmies Slippers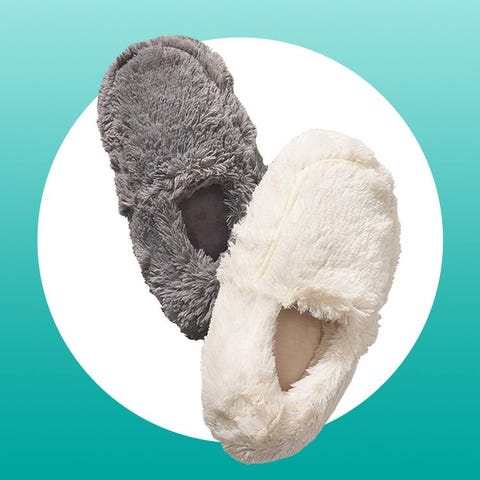 Pop these plush puppies into the microwave, and toes will be toasty in no time. The all natural grain and dried lavender fill in these microwavable slippers will provide a soothing weighted feel and release stress-busting aromatherapy benefits into the air. It's a thoughtful Christmas gift anyone can use.
9
FOR THE PAPER-OBSESSED PUZZLER
Custom Front Page Puzzle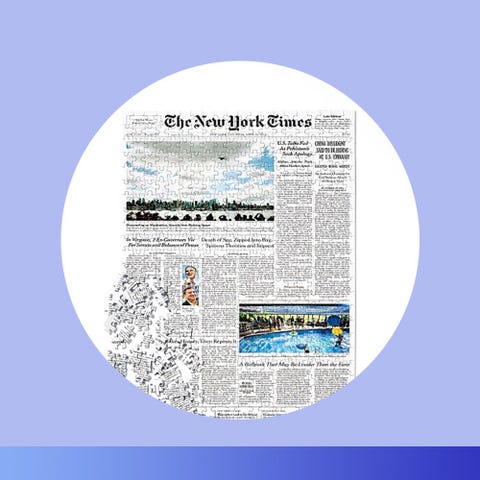 This personalized 500-piece puzzle is a fun and interactive option that's unlike anything they've ever received before. Select a meaningful day — their birthday, anniversary, or date of a significant milestone — and the seller will create a puzzle featuring the front page of The New York Times from that day.
10
FOR CREATIVE KIDDIE CODERS
Artie 3000 Coding Robot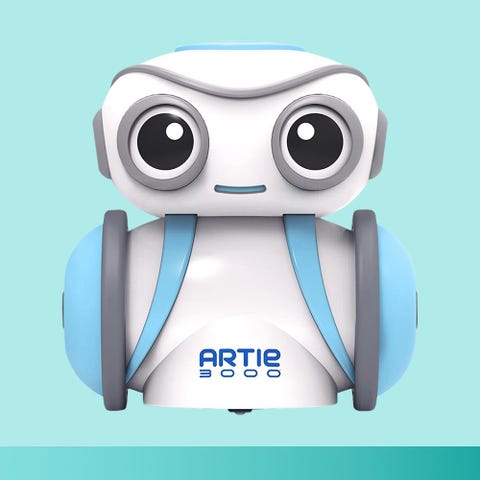 $41 AT AMAZON$45 AT WALMART$67 AT QVC
Kiddie coders can get creative with a design-drawing STEM toy that offers pre-programmed options for beginners, plus advanced apps that'll help them expand their knowledge as their skills grow. It comes with an Artie 3000 robot, four washable markers, and activity cards. In no time, they'll be pros at creating with Python and JavaScript!
11
FOR THE ONE WHO'S ALWAYS ON 1%
3-in-1 Wireless Charger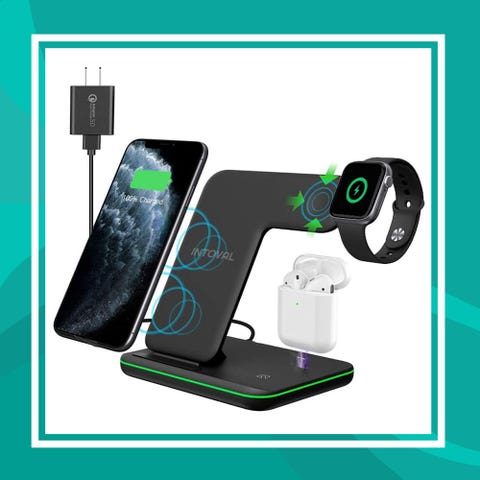 If your loved one is an Apple user, they're sure to love this Christmas gift. It will not only give them a designated space to store all their devices but also offers wireless charging. Its sleek design can hold an iPhone, Apple Watch, and AirPods, so all their devices can charge at one time without a mess of cords.
12
FOR THE SHUTTERBUG
Sprocket Portable Photo Printer Starter Bundle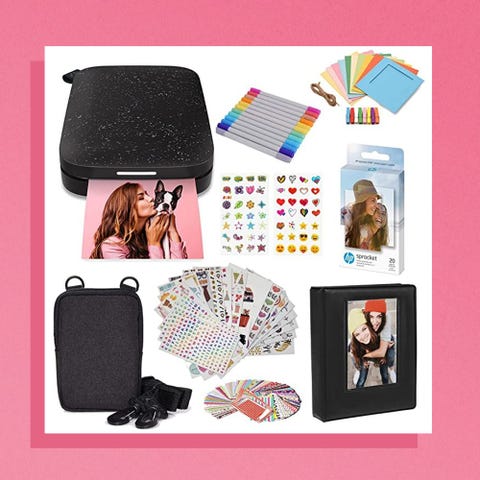 It's all about instant gratification these days, so help them turn their digital memories into physical memorabilia with a click of a button. This HP Sprocket starter bundle is a fun Christmas gift that's capable of printing 2×3-inch photos on the included Zero Ink paper. They can even edit photos before printing with Sprocket's mobile app.

The bundle includes a deluxe case, sticker sets, twin tip markers, square hanging frames, and an album to store all their pics.
13
FOR THE WINTER COMMUTER
Bluetooth Beanie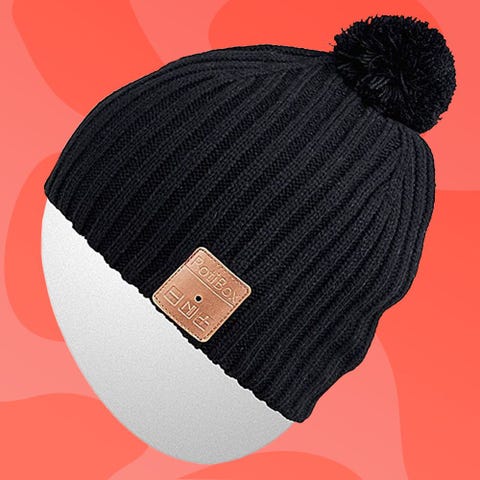 If they already own a great pair of wireless earbuds, this beanie will easily take their place in the winter months. This Bluetooth speaker-and-beanie combo make it possible for your recipient to listen to all their favorite tunes, skip back and forth through their playlists, and even take phone calls, all while keeping their head cozy.
14
FOR THE COMPETITIVE COMRADE
HUES and CUES Vibrant Color Guessing Game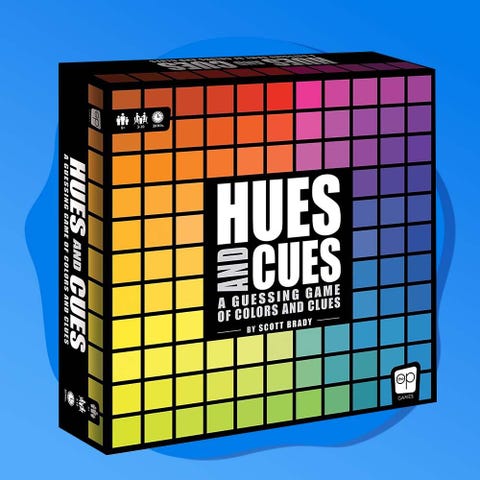 Get ready for a colorful game night! This eye-catching board game will test everyone's knowledge and guessing capabilities. Players will take turns trying to guess a specific hue from the 480 color squares on the board. The player with the most points on the grayscale scoring track wins the game.
15
FOR THE EXPERIMENTAL OENOPHILE
Starter Pack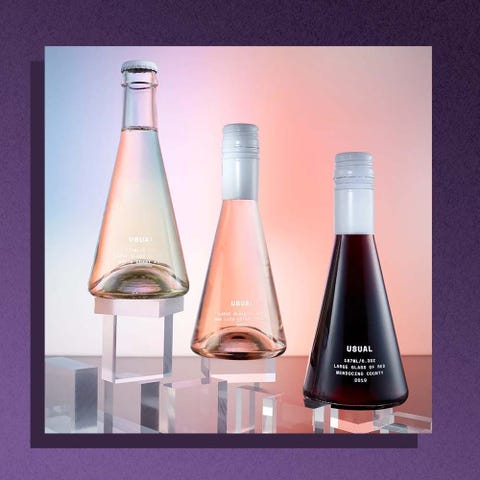 Treat the self-proclaimed wine connoisseur in your life with this Usual Wines starter pack. Usual Wines are sustainably farmed with minimal intervention and free of added flavorings, colorants, and sugar. This starter pack includes six generous single-serve bottles of an effervescent brut, a fruity red, and a crisp rosé for them to enjoy.
16
FOR COMFY STEPS
Cloud Slides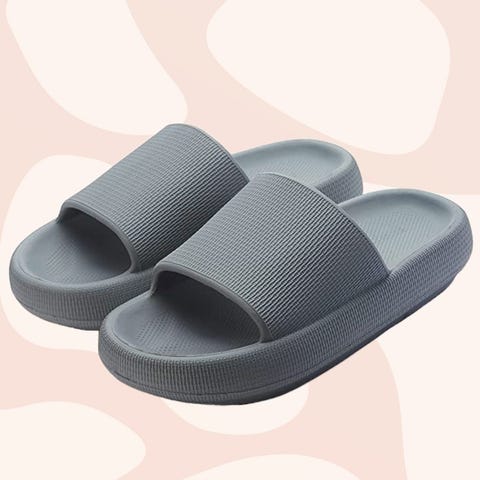 Now 40% off
Give them the chance to feel like they're walking on clouds with these popular slides. The soles of these slides are 1.5 inches thick, lightweight, and compression-resistant for a stable, supportive fit they'll want to take off.
Best of all, it's available in 21 unique colors to match anyone's style.
17
FOR CORD-FREE LISTENING
Bluetooth Headphone Adapter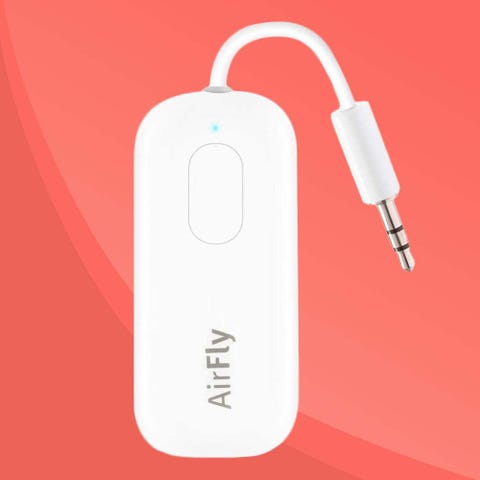 If you're looking for a gift for the one who's always catching flights, look no further than this TikTok famous gadget.
It has a battery life of over 16 hours and can wirelessly connect up to two wireless headphones via Bluetooth, so they can enjoy all the in-flight entertainment without ever dropping a penny on those airline headsets.
18
FORE A TEE-RIFIC GIFT
Golf Practice Net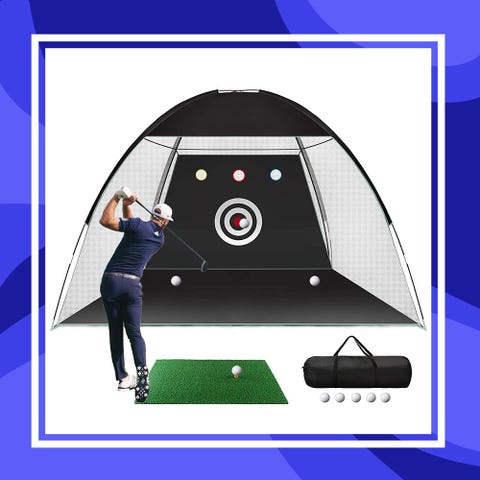 Now 11% off
If your dad can't always hit the links, this is the best Christmas gift to bring the links to him. It comes with a carry bag, golf hitting mat, a tee holder, five golf balls, and a hitting net that features one large target and three chipping target pockets so he can practice all his shots and swings from the comfort of his home.
19
FOR SECRET FAMILY RECIPES
My Family Cookbook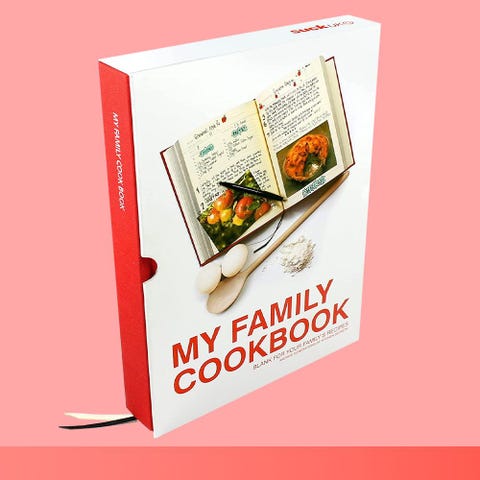 Now 22% off
$27 AT AMAZON$30 AT UNCOMMON GOODS
Since your family will be together for the holidays, get them all to share their favorite recipes in this cookbook. This blank recipe book has space to be filled with more than 80 recipes, photographs, and other materials. It's fabric-bound and contains 230 heavyweight pages for a gift that's made to last for years.
20
GREAT FOR SIDE SLEEPERS
Wireless Sleep Headphones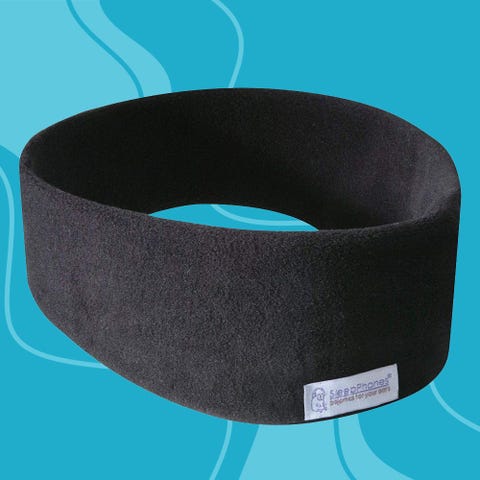 If your loved one typically has trouble falling asleep with headphones, especially when lying on their sides, these Bluetooth sleeping headphones with flat speakers will be a useful Christmas gift. It has built-in control buttons, clear sound quality, and a 12-hour battery life so they can listen throughout the night for restful sleep.
21
TO HOLD EVERYTHING
Go Getter Bag 2.0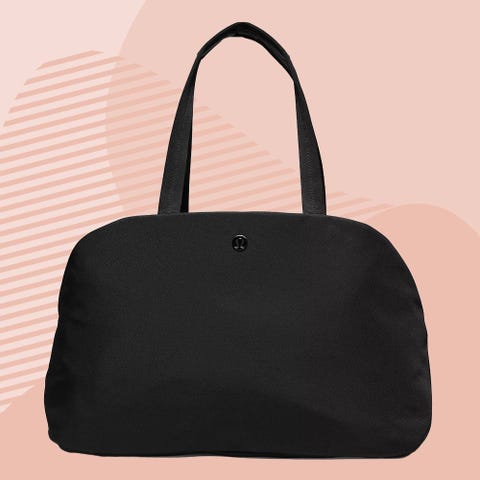 Give your giftee this versatile gym bag from Lululemon that's great for everyday use. It has designated space for sweaty workout clothes, their water bottle, and all other essentials. It's made of water-repellent fabric and also features padded handles for comfy carrying, an interior padded pocket for a 16-inch laptop, and a quick-access pocket for their phone.
22
A MUST-HAVE OUTDOOR PICK
Rendezvous Camping Chair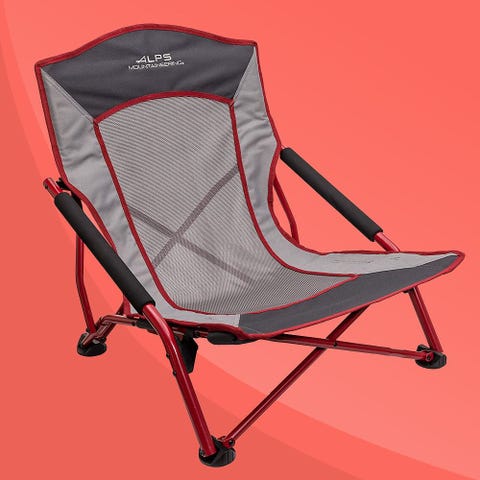 Now 33% off
$60 AT AMAZON$63 AT WALMART$67 AT MOOSE JAW
Fans of the great outdoors will appreciate having a comfortable place to sit wherever they go. From sunny beach days to hanging around a campfire, this foldable chair will be their favorite Christmas gift. The TechMesh fabric offers breathability, while the sturdy steel frame offers support and stability as they relax.
23
FOR THE KIDS
Sunny The Bright Light Chameleon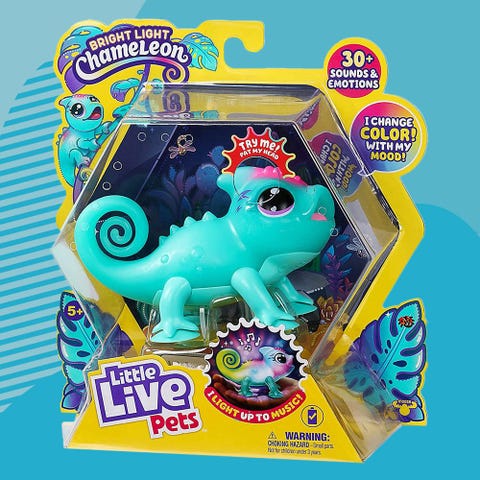 Now 10% off
This colorful toy is one of the best Christmas gifts for kids. Like a real chameleon, Sunny The Bright Light Chameleon changes color according to its mood. This interactive toy chameleon also responds to petting, feeding, the sound of your voice, and music. Plus, it's designed for endless play to keep the little one entertained.
24
COMMUTER COMPANION
The Backpack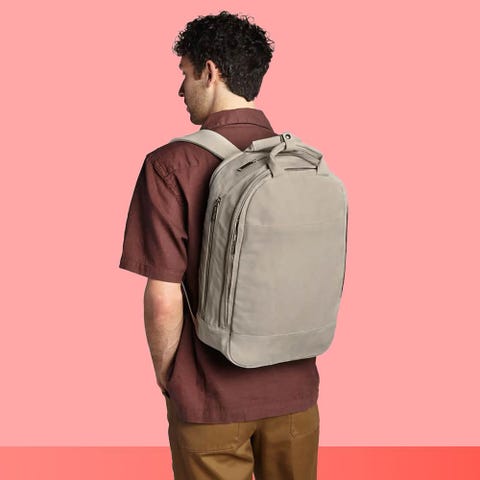 Don't be fooled by the minimalist design — because this backpack offers major storage. It has multiple pockets, including a padded laptop pocket ideal for a 16-inch laptop, a secret side pocket that's perfect for keys, and even a spill-resistant bottle pocket that can fit up to a 750-milliliter water bottle.
25
FOR QUALITY ATHLEISURE
Sunday Performance Jogger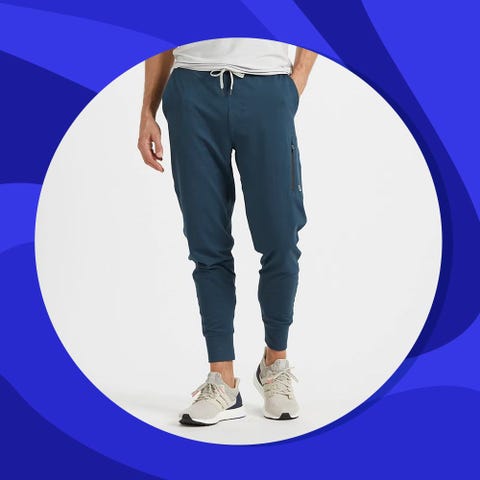 A great pair of joggers are always a welcomed gift for him. Made of moisture-wicking material, this pair from Vuori is quick-drying, offers four-way stretch, and will become a new staple in his closet. It also features a drawcord, an elastic waistband, and a zippered pocket to easily store important items when he's on the move.
26
A RECYCLED KITCHEN NECESSITY
The reBoard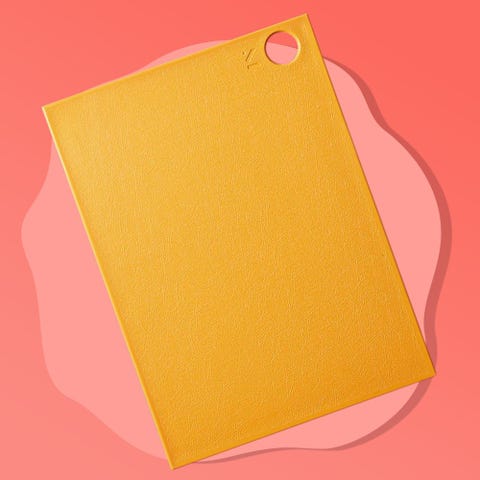 Give their kitchen a surprising sustainable upgrade with this BPA-free cutting board made from kitchen plastic scraps and renewable sugarcane. It's available in six gorgeous colors to compliment any kitchen aesthetic.
Plus, 50% of proceeds from the color To Pó-Po, with Love will benefit Heart of Dinner, which delivers care packages to elders in the AAPI community throughout New York City.
27
FOR LIGHTWEIGHT TRANSPORTATION
Soltera Ebike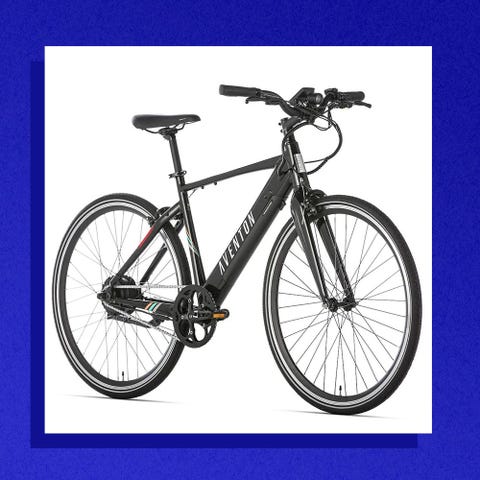 If they've been considering joining the world of e-bikes, this Aventon Soltera electric bike is a splurgeworthy gift that's sure to impress them. Despite being an electric bike, this single-speed bike is agile and lightweight, so they can zip through the city and carry it with total ease.
It's also available in a 7-speed option as well.
28
FOR THE AT-HOME BARISTA
Limu Ethiopia Single Origin Coffee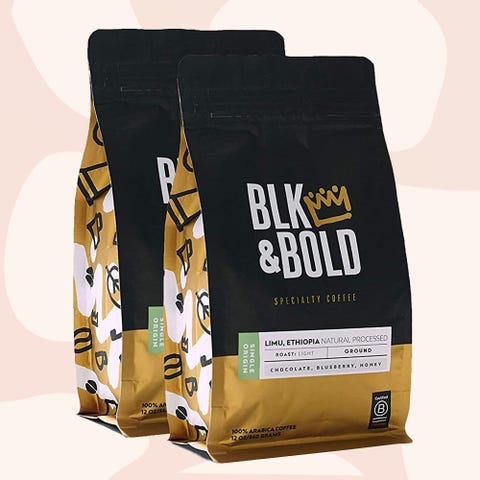 Looking to gift a guarantee for good mornings this Christmas? This blend of Arabica beans is sure to please. It's a light roast with low acidity and notes of chocolate, blueberry, and honey. A cup of this coffee will make you want to actually get up in the morning.
29
FOR THE INTREPID TRAVELER
Self Cleaning Water Bottle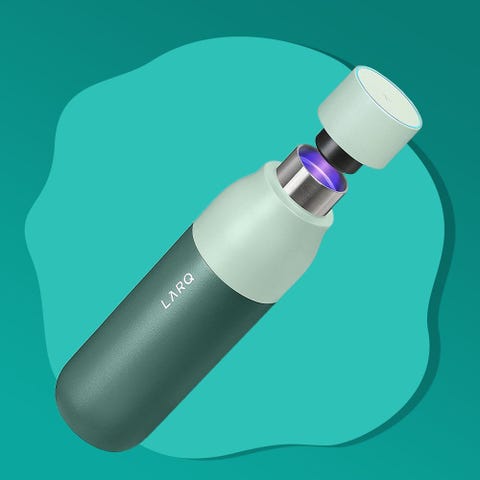 Frequent travelers know that keeping a water bottle on hand is always a smart move, but finding a good spot to fill up with filtered H2O while in transit can be tricky.
This USB-rechargeable water bottle from LARQ is not only insulated, but it uses an internal UV-C LED light that activates every 2 hours to purify the water and eliminate up to 99.99% of contaminants.
30
FOR TINY KICKS
Smallbirds Wool Runners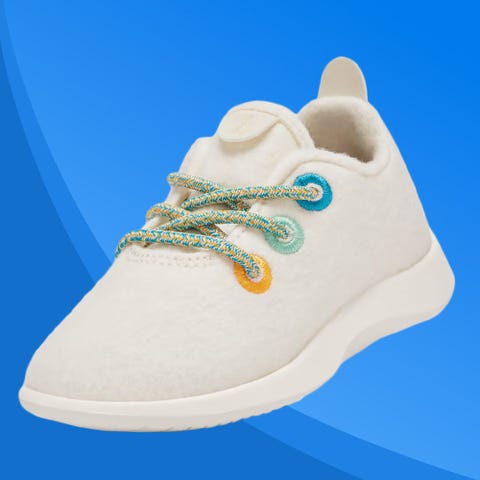 This pint-sized version of one of Allbirds' most-loved styles — wool runners — will make your littlest recipient squee with joy. These Smallbirds wool runners are made with natural materials, feature elastic laces, and have a small carbon footprint for a sustainable Christmas gift.
Plus, since messes happen, they're machine-washable — which is a parent's dream.
31
BEST HANDBAG
The Naturals Crossbody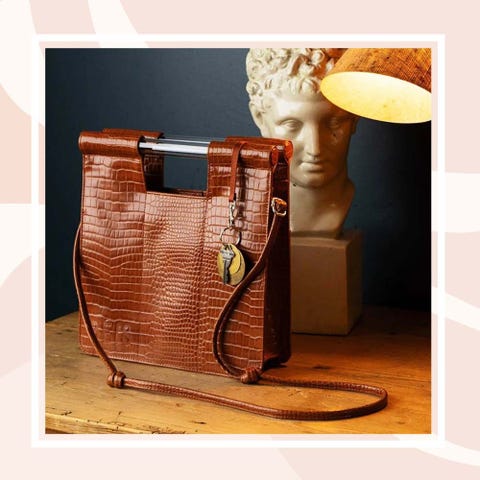 A great handbag can last a lifetime, making it one of the best Christmas gifts you can give. This crossbody bag by Shay Mitchell's brand Beis is beautifully constructed with faux croc material, three pockets, and a knotted crossbody strap. The gorgeous cognac color goes with almost any outfit during any season.

We especially love the contrast of the acrylic handles with the material of this compact handbag.
32
SCENTED CANDLE ALTERNATIVE
Smart Fragrance Diffuser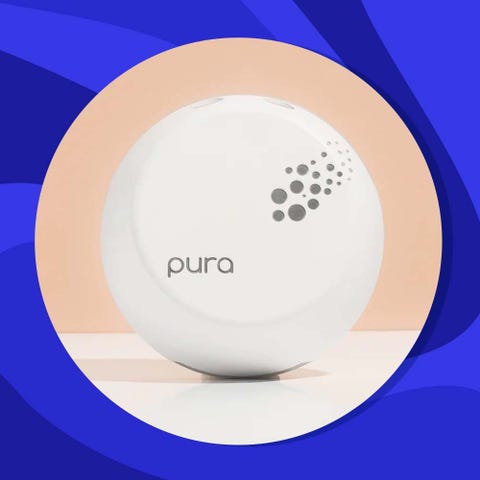 This smart diffuser is an upgrade from the traditional scented candle gift — and our editors are obsessed with it. Your recipient will appreciate the ability to control this diffuser from anywhere with the app. They can create custom schedules, adjust fragrance intensity, and swap between the two scents to fill their space when and how they want to.
33
TRIPLE-THREAT SKIN CARE
Mini Cream Discovery Set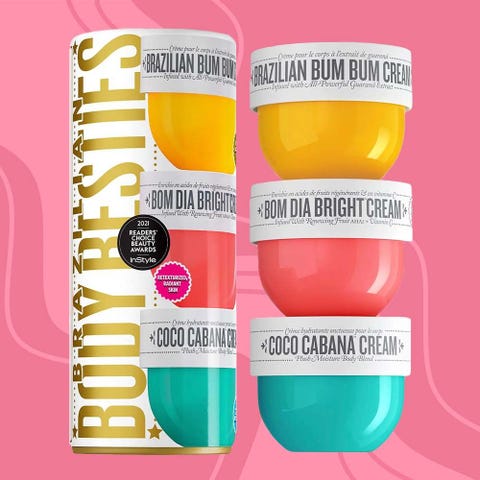 This cream set from Sol de Janeiro will become their new go-to product when they want super smooth, soft skin and smell absolutely heavenly. This trio works to firm up, brighten, and hydrate their skin. It includes three body creams — Brazilian Bum Bum, Bom Dia Bright with Vitamin C, and Coco Cabana Intense Hydration.
34
BEST PHOTO GIFT
Custom Photo Woven Throw Blanket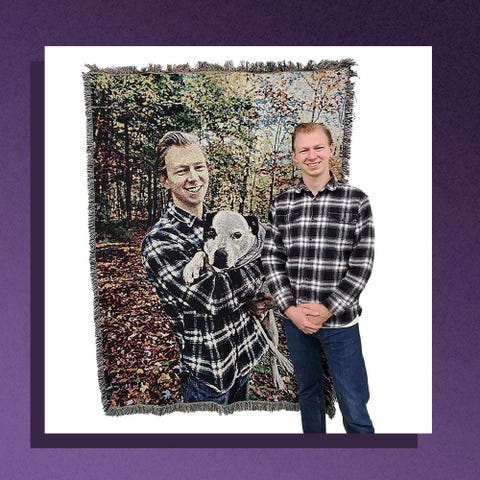 If you live far away from friends and family, this blanket can help them feel like you're wrapping them up in a hug, no matter where you are. Choose a favorite photo, upload it, and you'll soon have your own woven blanket to give to loved ones this Christmas.
35
FOR THE PERSON WHO WORKS FROM HOME
Temperature Control Smart Mug 2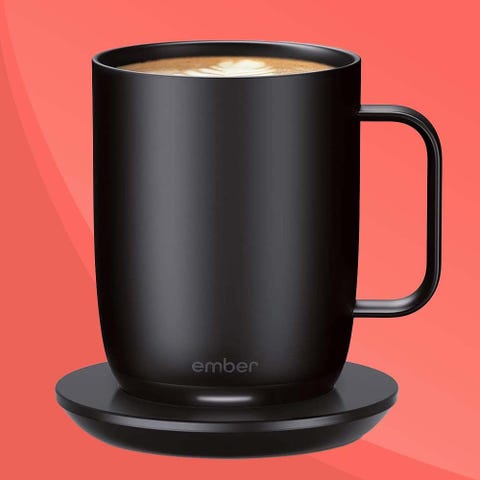 Keeping tea, coffee, and hot cocoa warm has never been easier than with Ember's genius smart mug. It can be controlled with a smartphone and has a long lasting battery. It'll maintain their preferred sipping temperature, so they don't have to keep running to the microwave ever so often to heat up lukewarm liquids.
36
FOR THE PREPARED SURVIVALIST
Emergency Preparedness Kit in Bin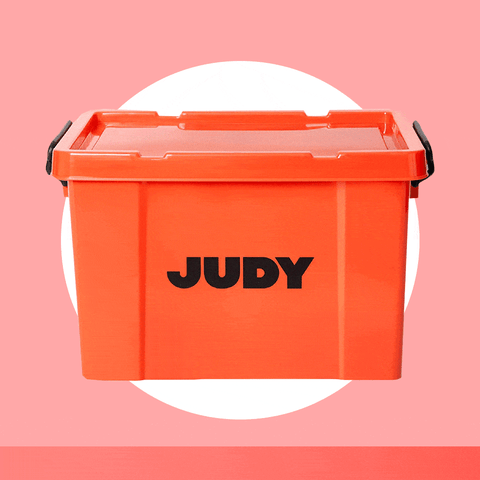 You never know what tomorrow will bring, but with this all-inclusive emergency bin from JUDY, you can at least be prepared. It includes six pre-packed boxes featuring essential tools for warmth, safety, and first-aid, plus enough food and water to sustain four people for up to 72 hours of self-sufficiency.
37
BEST TECH GIFT
Essentials Catch:2 Dual Wireless Charging Station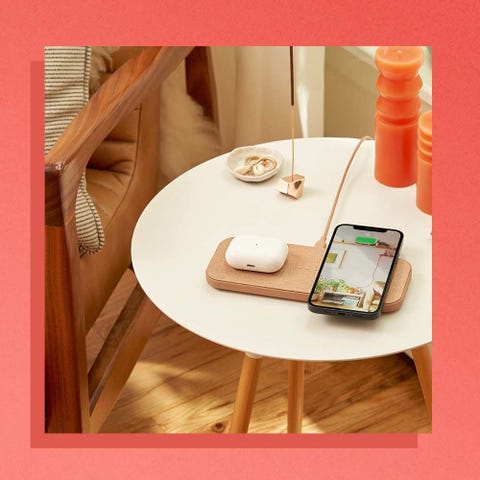 We all have a tendency to throw our keys, change, and phone down onto the first surface we encounter in our home, but what if that surface could corral your items and charge your phone?
Courant has created a chic linen catch-all wireless charger, making sure your phone is juiced up before you grab your keys and walk out the door.
38
FOR THE FASHIONISTA
The Perfect Black Pant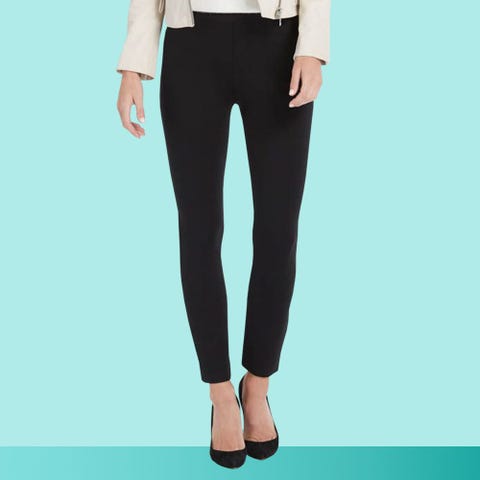 $135 AT AMAZON$148 AT NORDSTROM$148 AT BLOOMINGDALE'S
Not only do these pants carry the name "The Perfect Black Pant," but believe us — they actually live up to all the hype! They're a flattering pair of pants with the comfort of leggings but with a more formal look. It has a high-waisted silhouette, split cuffs, and four-way stretch for total comfort.
39
FOR THE FIERY FOODIE
Truffle-Infused Hot Sauce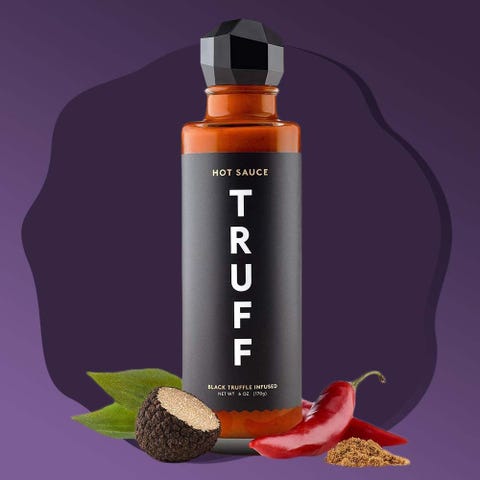 $13 AT AMAZON$18 AT BLOOMINGDALE'S$18 AT NEIMAN MARCUS
This best-selling hot sauce is literally the best thing you can gift a foodie who has a penchant for dabbling in all things spicy — and our editors can't get enough of it. The heat of red chiles blended with the umami (savory mouthfeel) of black truffle takes this designer sauce to the next level. This gift set includes two bottles.
While you're at it, try Truff's pasta sauce, too.
40
FOR THE PET PARENT
Custom Pet Portrait Cookie Cutter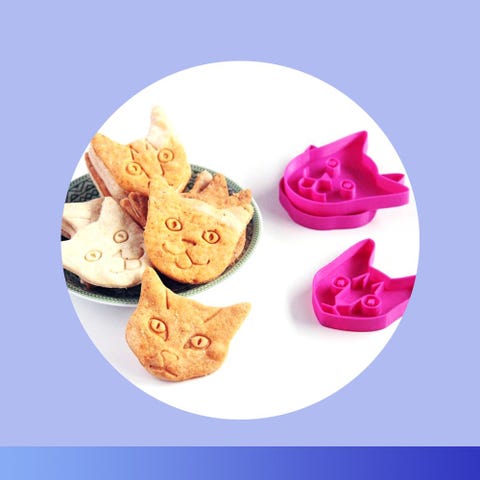 Give your favorite baker the tools they need to create the cutest cookie they'll ever eat. Simply send in an image of their beloved pet, and the seller will create a customized cookie cutter that looks just like their animal companion. It's a unique gift that will make the most adorable and delicious cookies!
41
FOR THE SENTIMENTAL SWEETHEART
Engraved Date Necklace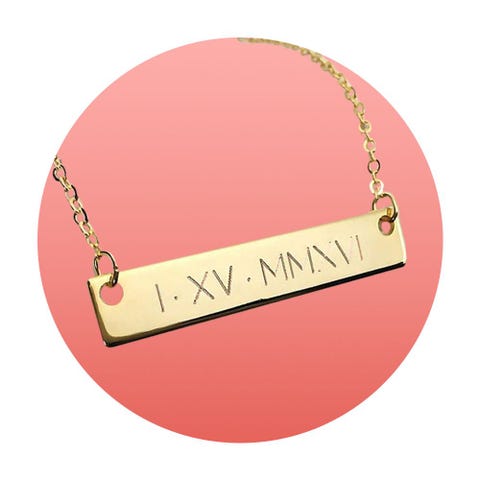 This trendy personalized necklace is delicate enough to wear every day, but it's the personalized date that's engraved on its silver pendant that makes it extra special.
Choose a meaningful date, like a birthday or anniversary, for a tangible memento from those memories that she can keep close to her heart.
42
FOR THE LONG-DISTANCE DUO
Long Distance Friendship Lamp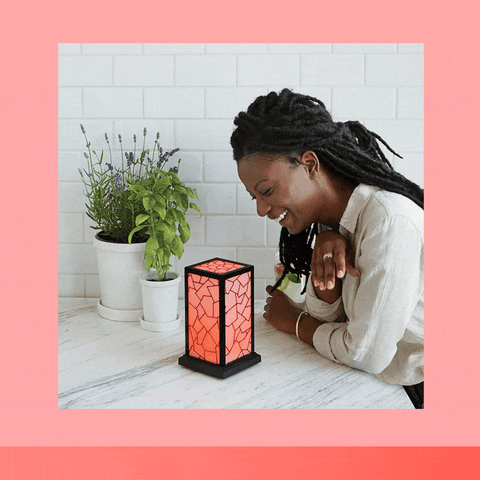 If you're separated by distance from a loved one, gifting a set of two light-up friendship lamps will help your loved ones feel closer, no matter the circumstance.
Whenever you think of your recipient, reach out and touch your lamp to send love their way. Their corresponding unit will instantly light up, emitting a soul-warming ambient glow that'll make them feel fuzzy inside.
43
FOR LAZY LOUNGING
Dream Jersey Crew Neck Lounge Set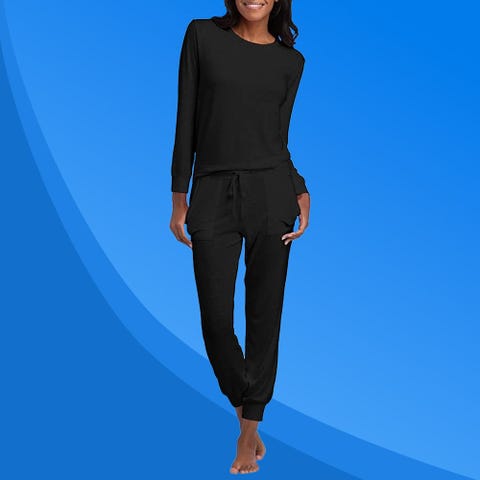 Is there anything better than curling up in cozy loungewear on a cool day? This jogger and crew neck lounge set is made of über soft jersey that feels like a hug once you put it on. It's even chic enough to wear out of the house, which is always a plus.
44
FOR THOSE WHO LOVE DISCOVERING NEW BEAUTY BRANDS
Beauty Box Subscription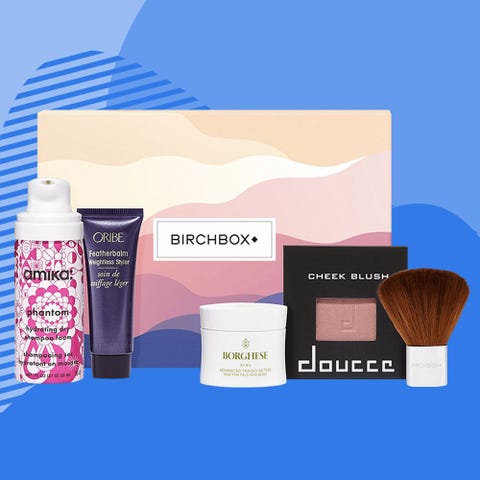 The most popular — and definitely among the most valuable — subscription box out there, Birchbox, was made by women for women to test their preferred products before the bigger buy.
An A+ pick for besties, each box features five trial-sized products you can tailor to her interests, including samples from cult classics and emerging brands. There's one for men, too!
45
FOR THE ARTSY FRIEND
Instax Mini 9 Instant Camera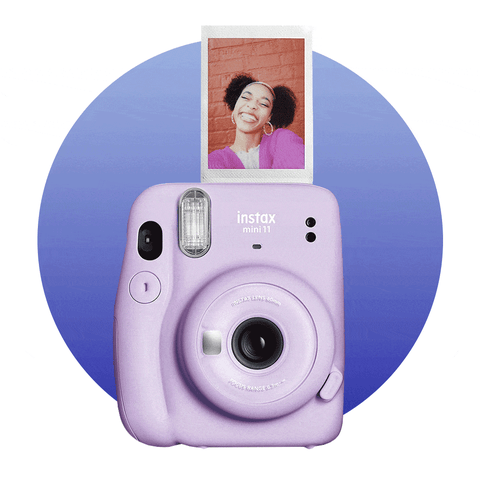 Now 11% off
The Fujifilm Instax Mini instant camera is a great Christmas gift for that friend who loves to snap photos constantly, and now the pics don't have to sit in their camera roll! It comes in vibrant light blue, dark blue, green, pink, and smokey white, so you can pick the color that matches their personality.
Just be sure to order some film packs to go with it so they can take pictures of everyone else opening presents!
46
FOR THE STUDENTS
Kånken Water Resistant Backpack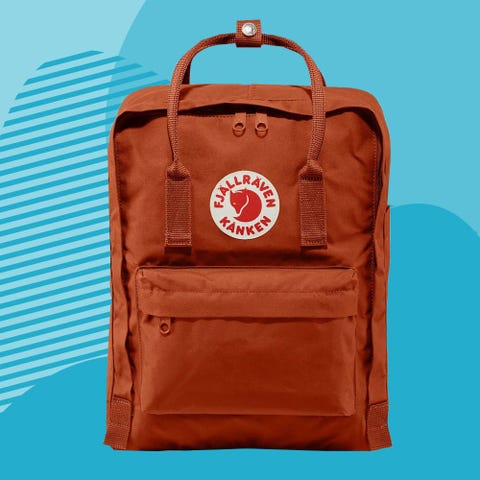 $80 AT NORDSTROM$80 AT ZAPPOS$90 AT SHOPBOP
For the student or commuter in your life, a great backpack makes for the best Christmas gift. Kånken bags are stylish in their simplicity and are available in tons of colors to match anyone's aesthetic. This version is also water-resistant, making it perfect for rainy days or snowy commutes.
47
FOR TINY TOTS
Bixbee Bootie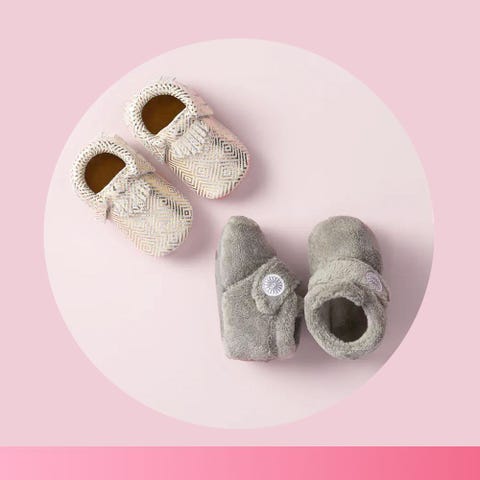 $40 AT NORDSTROM$40 AT ZAPPOS$40 AT BUY BUY BABY
Who says the little ones can't get some new kicks? These fuzzy booties each have an adjustable hook-and-loop strap that will keep their toes warm and go with just about any outfit. They come in sizes 0-18 months.

Plus, you get to say you got their baby their first pair of UGGs.
48
FOR PET PARENTS
Harness Walk Kit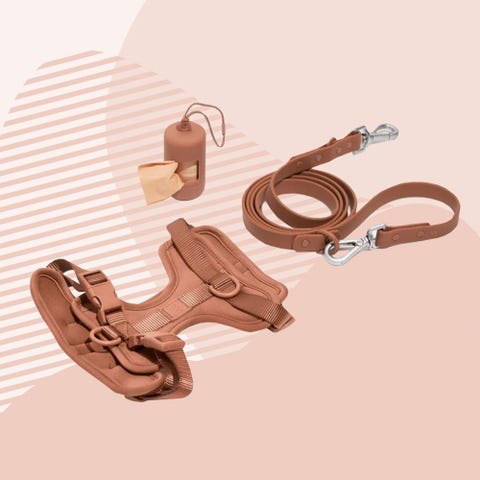 There's something about a matching harness and leash that makes you feel like you have it all together when you go out for a walk. This set is not only chic, but the harness is supportive and safe for your doggo. It can help keep them from pulling too hard when they see something exciting, making things easier for you and keeping them from choking themselves.
49
FOR THE ORGANIZED TRAVELER
The Waverley Convertible Bag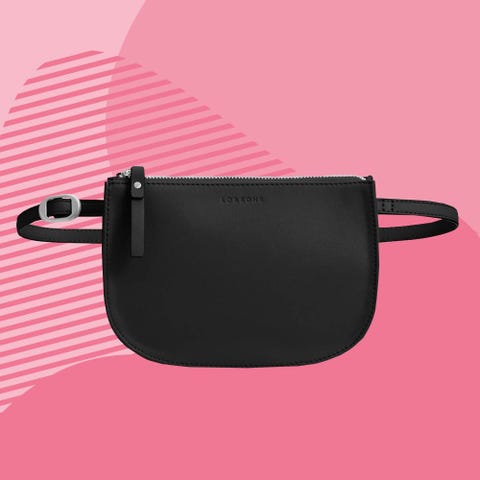 If you're looking for a gift for someone who's got the whole travel thing down — meaning they can fit all the essentials in a carry-on, no matter how long the trip — this is the one for them.

This do-it-all tiny bag can be worn cross-body, used as a clutch, or worn as a belt bag. Inside, it has one zipper pocket with card slots inside and a slip pocket to hold non-valuables. There's even a card slot on the back of the bag for easy metro card access.
50
FOR THE GROOMING-OBSESSED
Harry's Winston Set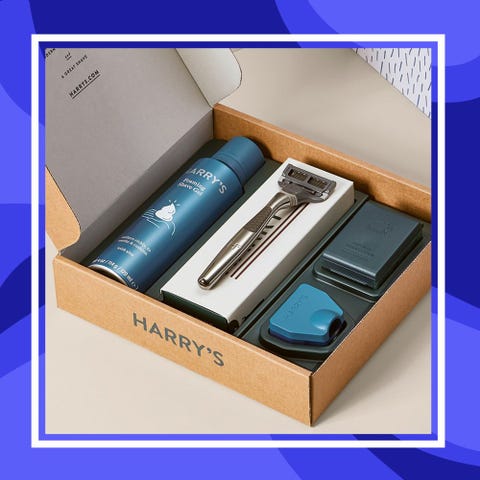 While grooming kits are a solid Christmas gift option, the Winston set from Harry's is a practical (yet slightly more luxe) gift for the guy who appreciates a proper shave.
It includes a foaming shave gel, three German-engineered blade cartridges, and a weighted, ergonomic handle that can be engraved for a personalized Christmas gift.
51
FOR THE COFFEE PURIST
Pour-Over Glass Coffeemaker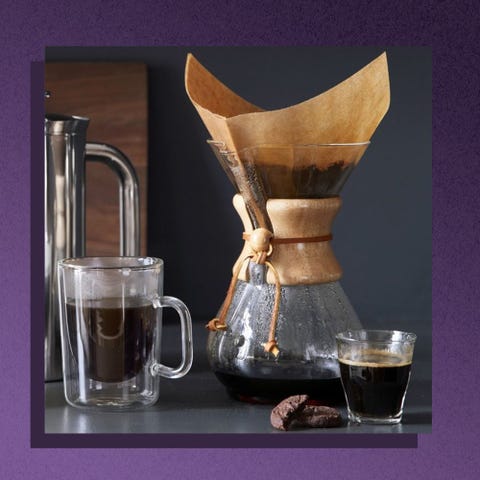 Shopping for a coffee elitist who'd instantly roll their eyes at the thought of a pod-powered pour? This elegant glass option from Chemex will preserve the integrity of their favorite ground beans to brew the most flavorful batch possible. It's a timeless gadget that's totally worth the hype and is hands-down one of the best Christmas gifts to get the coffee lover in your life.
Lovers of learning will appreciate the opportunity to educate themselves in a series of online classes taught by more than 65 famous instructors.
They'll learn cooking from Gordon Ramsay, creativity and leadership from Anna Wintour, tennis from Serena Williams, and so many more great skills from outrageously inspiring individuals.
53
FOR THE WINTER COMMUTER
Women's Packable Down Jacket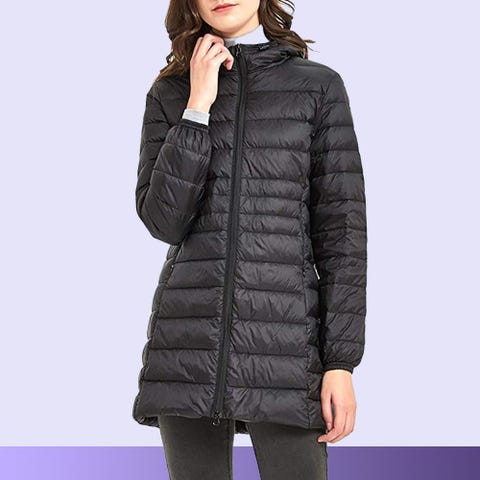 Now 32% off
Give the gift of a warm and sleek winter coat with this packable down number. The down-filled channels help hold heat in, and there's even a hood to ward off brisk winter winds. Best part? It packs down into a small pouch, so it's easy to stow away.
54
FOR LIGHTING UP ROOMS AND LIVES
Long-Lasting Candle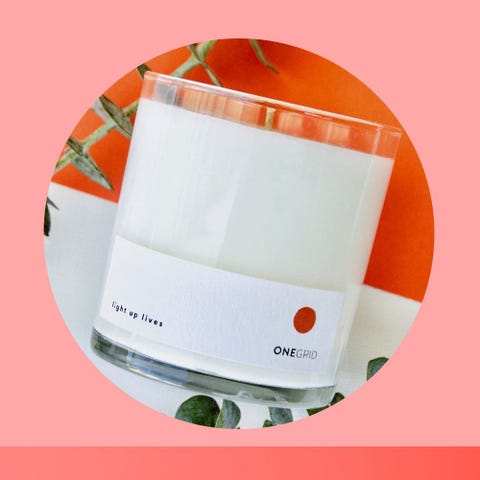 While a candle can certainly light up a room, this one is designed to light up lives. Each candle is poured by women refugees in the USA, using 100-percent soy and coconut wax and natural cotton wicks. They burn for about 55 hours, making them a long-lasting gift, too.
55
FOR THE COFFEE CONNOISSEUR
Clara French Press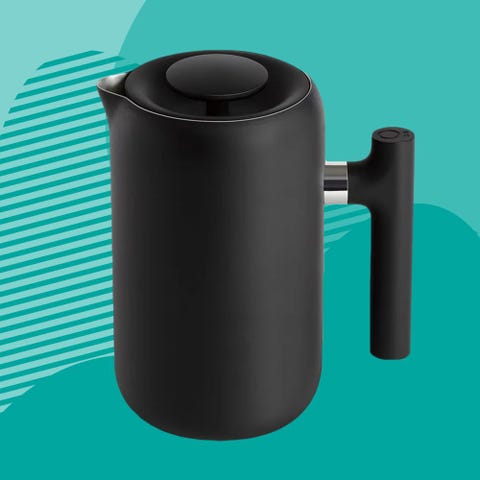 Sometimes, less is more in terms of brewing a morning cup of joe. This sleek French press not only looks great on the counter but it's made of double-walled steel to keep coffee hot for longer. There are also markings on the inside for the perfect bean-to-water ratio.
56
FOR ON-THE-MOVE MUSCLE RELIEF
Theragun Mini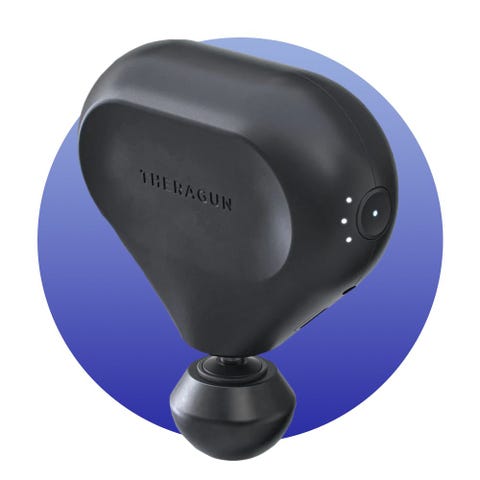 $199 AT AMAZON$169 AT WALMART$199 AT DICK'S SPORTING GOODS
If working from home has left their back feeling tight and achy, this tiny Theragun will loosen built-up tension with a powerful percussion massage. It's the brand's smallest device to date, making its convenient pocket size ultra portable for on-the-go relief. Plus, it uses QuietForce Technology for a near-silent experience when in use.
57
FOR THE FRIEND WHO JUST MOVED UP NORTH
Women's Thickened Down Jacket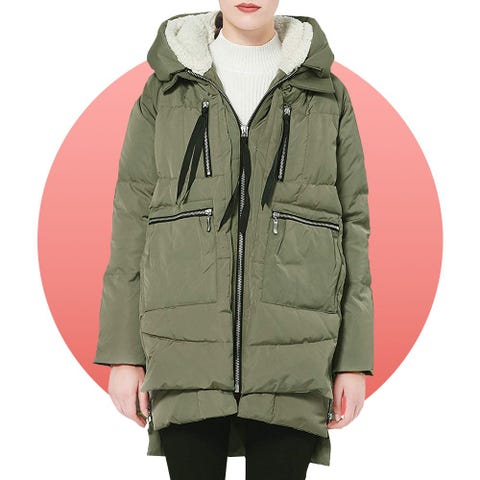 This infamous "Amazon jacket," has garnered more than 16,000 positive reviews and not without good reason. It features a fleece lined hood, zippers on both sides to expand the jacket for free movement, and six large pockets to store basically everything because the last thing you want to hold on a cold day is a purse.
A lot of us have been working out in our living rooms or bedrooms for over a year now, so why not continue to upgrade someone's home setup? These sliders by Bala (makers of the fashionable weighted bangles) are small and easy to store away, but they're perfect for ab workouts or even just leveling up a yoga routine.
59
FOR HOT SLEEPERS
Tree Napper Weighted Blanket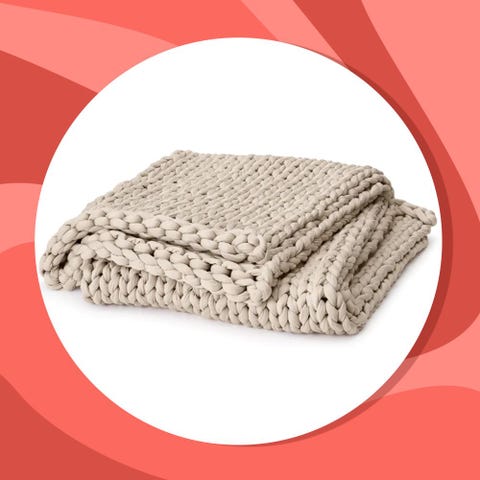 Weighted blankets are great for anyone who has trouble falling asleep. They actually help stimulate serotonin production and decrease stress hormone production, which is the perfect combination to help anyone drift off. This one by Bearaby is hand-knitted and made of eucalyptus fibers, which help wick away moisture, keeping you cool at night.
60
FOR THE LITTLE ONE WHO LOVES SURPRISES
Cutetitos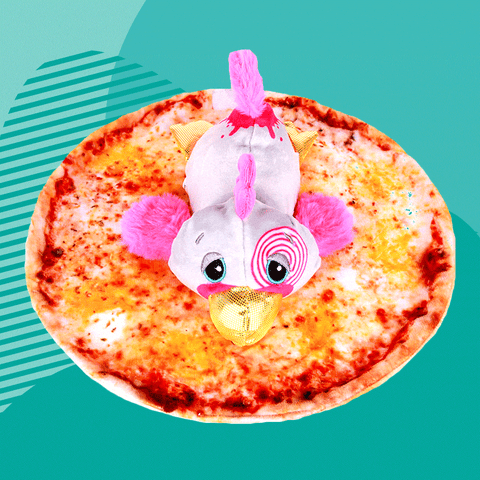 Your little one will be surprised for so many reasons when they spot this playful plushie toy under the tree.
Inside a tiny tortilla blanket lies an adorable new friend, but they won't know which one they're going to get until they unwrap it, so anticipate multiple waves of excited screams.
61
FOR GATHERING AROUND THE FIRE
Janesville Steel Wood Burning Fire Pit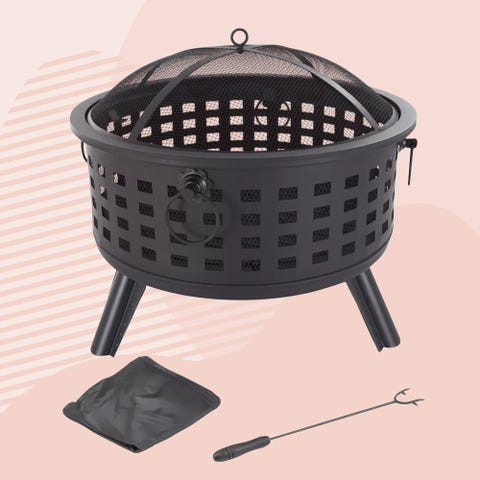 $128 AT WAYFAIR$175 AT QVC$176 AT BED BATH AND BEYOND
There's something about sitting around a fire with friends that makes you feel warm and fuzzy inside. With this fire pit, you can feel that way every night if you wanted to! It's the perfect gift for the friend who always hosts or has a backyard begging for a fire pit to gather around.
62
FOR APPLE FANS
iPhone 13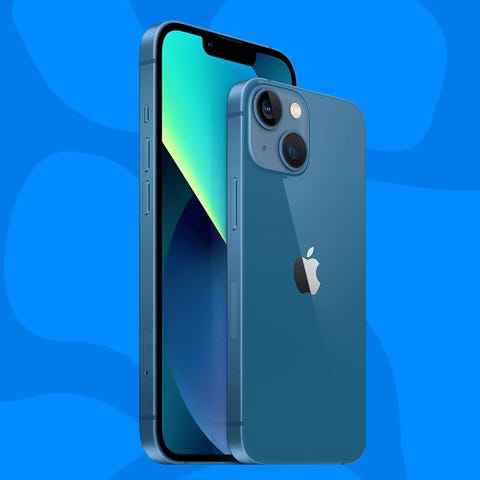 $929 AT AMAZON$979 AT WALMART$1,093 AT TIGERDIRECT.COM
The iPhone is a perennial best gift. And the iPhone 13 — which we happen to think is the best iPhone to date — will brighten anyone's Christmas morning.
It brings welcome improvements, including more power, a vastly more sophisticated camera setup, and a brighter display. The new iPhone also comes in a slew of eye-catching colors to match anyone's unique style.
63
FOR THE SPAGOER
Classic Bathrobe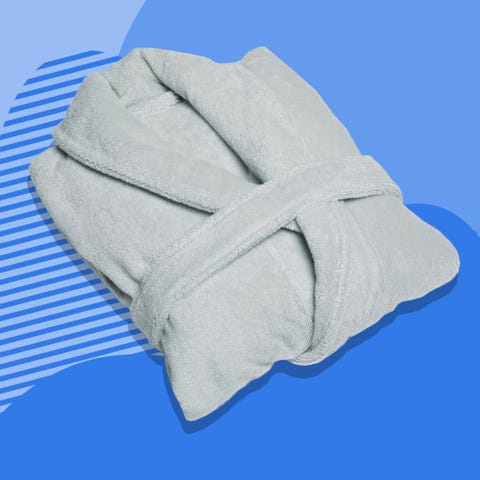 We're calling it: This bathrobe is a perfect go-to gift for when you're fresh out of ideas but you still want to impress. Available in six soothing shades, this plush robe is made of soft and cozy Turkish cotton, has two front pockets, and will honestly make anyone's (Christmas) day.
Revoked Card Game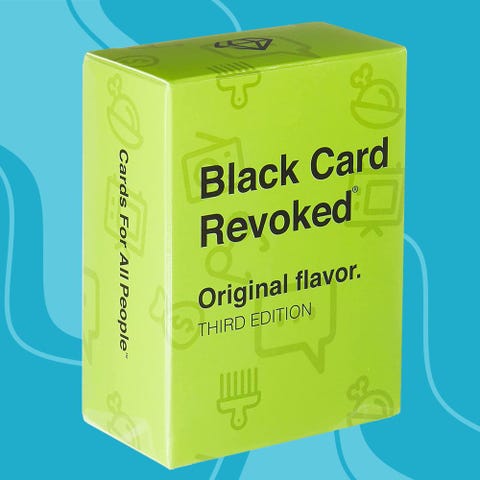 Celebrate Black popular culture with a nostalgia-packed card game that'll get the whole family involved.
Trivia questions like "How many fights did Will Smith get into before his mom got scared?" are balanced with debate-initiating prompts like "Who is the best rap artist out right now?" as well as more serious topics that'll lead to thought-provoking conversation.
65
FOR THE DOG MOM AND DAD
Dog DNA Test Kit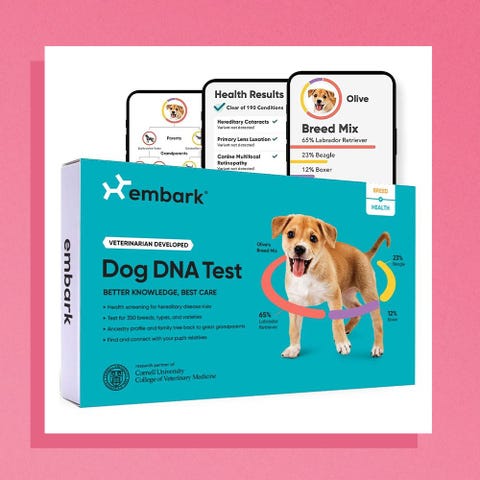 Now 20% off
$159 AT AMAZON$159 AT CHEWY$159 AT WALMART
While DNA kits for humans are an unforgettable Christmas gift, why not get DNA kits for the dogs in your life. Who wouldn't want to know more about their pooch? With a simple cheek swab, you can reveal more about breed information, disease predisposition, and ancestry of their pooch in 2-4 weeks!
66
FOR THE IT-GIRL
Croissant Dôme Hoops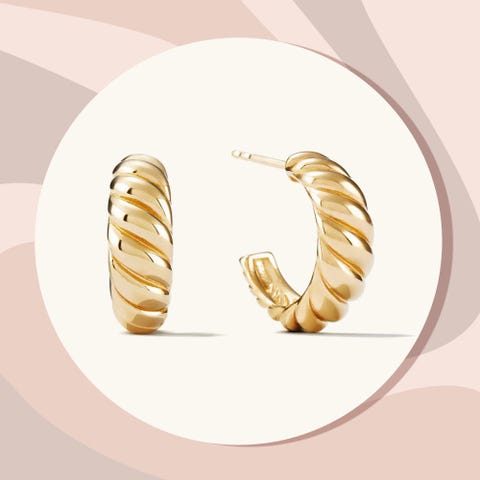 Sometimes a classic Christmas gift is the way to go! These croissant-inspired hoops are on every it-girl's wish list. This pair of earrings feature a timeless, elegant design that's still super sleek, trendy, and will be what they reach for to complete any look. It's available in gold vermeil and sterling silver.
67
FOR THOSE WHO LOVE A HOME WORKOUT
The Mirror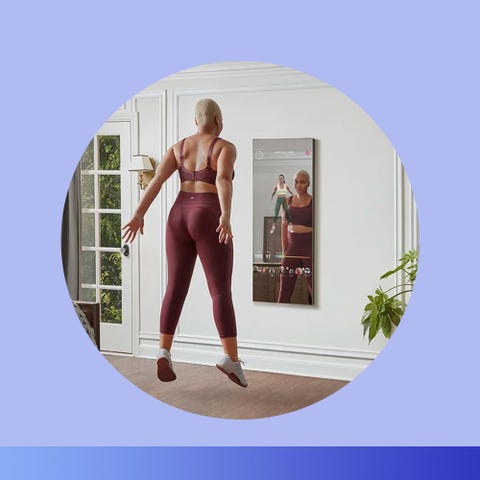 If YouTube workouts and quarantine walks just aren't cutting it anymore, go all-in with Mirror's all-in-one exercise system that'll get you moving at home. They'll get unlimited access to live and on-demand classes in more than 50 genres and even receive feedback on their workout performance.
When not in use, it functions just like a regular mirror, so it won't disrupt your home's decor.
68
FOR THE FRIED FOOD FIEND
8-in-1 Digital Air Fryer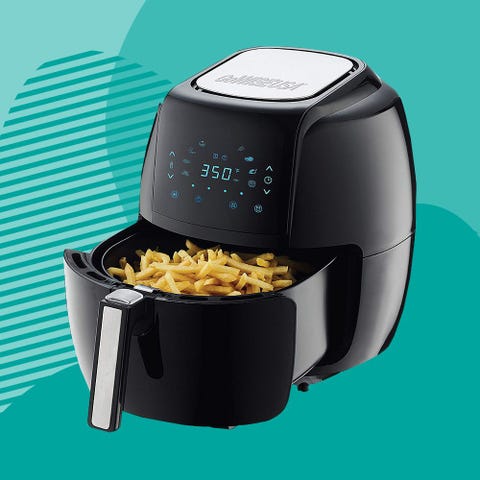 Now 33% off
$80 AT AMAZON$100 AT WALMART$85 AT WAYFAIR
Gift them this popular programmable air fryer so that they can cook up all of their favorite crispy foods without any of the guilt. Eight presets will make it easy to switch from dippable chicken fingers to decadent fried Oreos, and because it offers a bake function too, there are practically no limits to what they can make.
69
FOR THE ORGANIZED TRAVELER
Go Pouch Set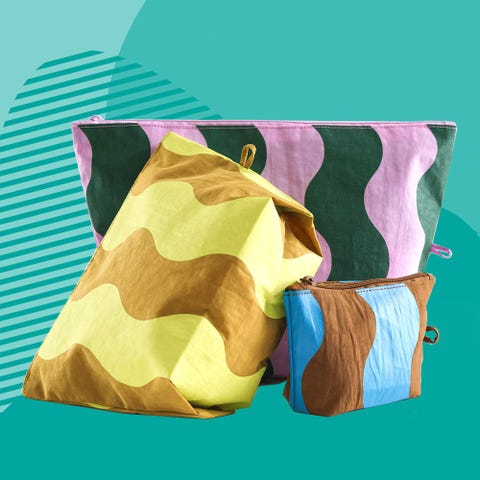 Ideal for toting along makeup in her purse or keeping tech items safe and separated, this set of three Baggu pouches will come in handy for plenty of uses. The set is offered in a variety of patterns printed on recycled heavyweight nylon and is completely recyclable for convenient cleaning.
70
FOR THE BOUGIE BATHROOM
Linen Spa Bath Sheet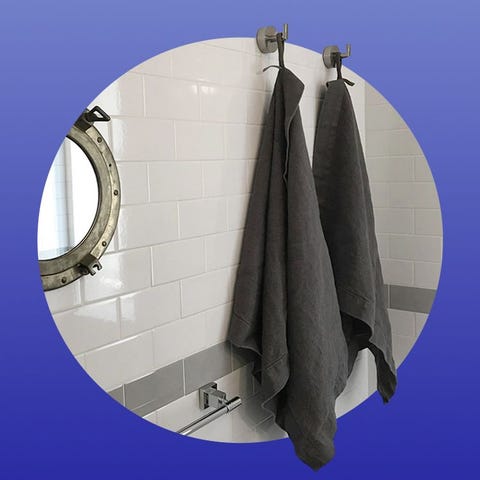 These luxurious bath sheets will make getting out of a hot shower just a little bit easier. Made with imported Belgium linen, this is a Christmas gift that's made to last for years. These sheets are thick, soft, and super absorbent, but they dry faster than traditional towels, thanks to their lightweight linen fabric.
71
FOR SAFER SOUND STREAMING
Kids Smart Speaker Player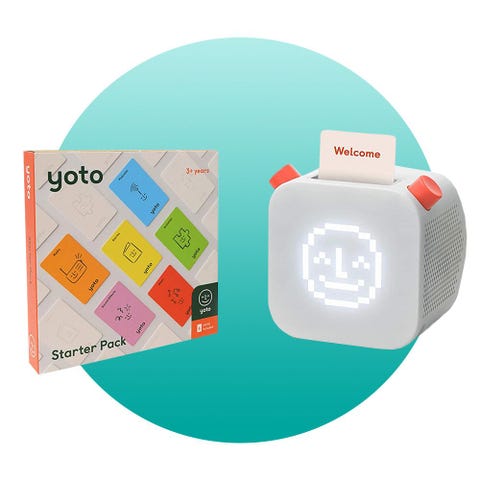 This child-friendly "smart" speaker is controlled by physical cards that kids can scan to play music, audiobooks, podcasts, and more. It can also be used as a night light, clock, and sleep trainer. Unlike the Amazon Echo for kids, there's no camera, no microphone, and no ads, to ensure total privacy and safety for your tot.
72
FOR THE HOME CHEF
The Coated Pan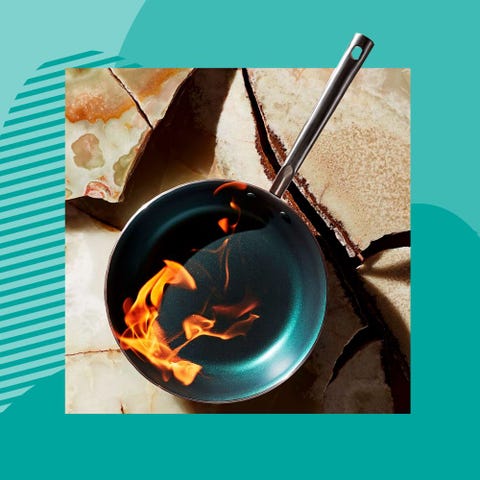 We've never swooned over a piece of cookware as much as we have with this one. This 10.5-inch stainless steel pan from Material has copper at its core, ensuring quick heating and consistent distribution throughout (no hot spots here!).
It's oven- and dishwasher-safe, and its nonstick coating is fume-free and long-lasting.
Imagine never having to worry about where you left something ever again. Thanks to Apple AirTags, you can gift that sense of relief! These tags stick onto just about anything — from wallets to dog collars — and they work as a tracker, so your gift recipient will always know where their things are. And if they do lose something, they can report it as lost in the Find My network, which comes standard with all Apple devices.
More: 8 Apple AirTag Accessories For Peace of Mind With a Personal Touch
74
FOR THE ASPIRING DESIGNER
iPad 9th Generation with Cellular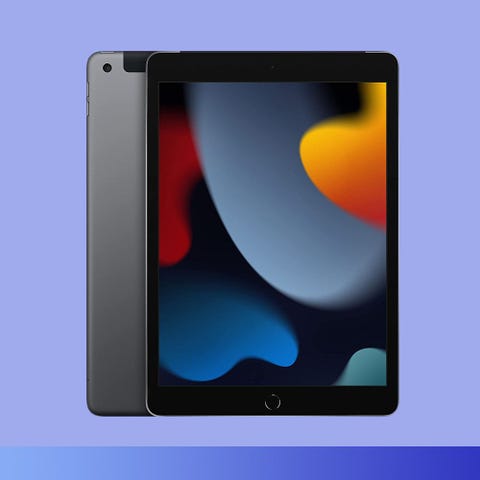 Now 11% off
$410 AT AMAZON$474 AT WALMART$419 AT B&H PHOTO
Available in silver and space gray, the latest iPad model is one of our favorite luxury Christmas gifts this year. It has an upgraded processor and improved graphics, plus a gorgeous 10.2-inch Retina display.
This iPad is also compatible with the Apple Pencil stylus, making this pick an incredibly capable tool (and gift idea!) for those in creative fields. We even named it one of the all-around best tablets to use.
75
FOR STARTING OFF THEIR SMART HOME
Echo Dot 4th Generation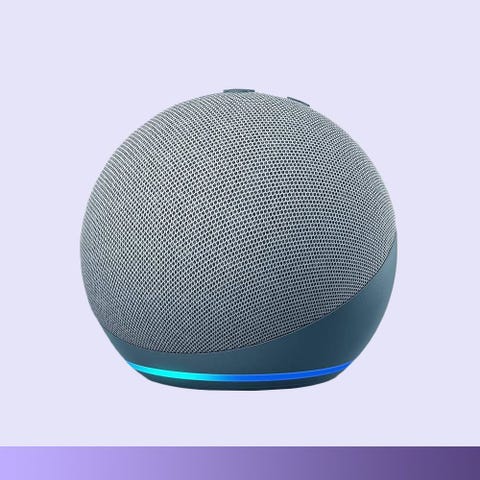 $50 AT AMAZON$50 AT DELL.COM$50 AT B&H PHOTO
The Echo Dot 4th Generation flaunts a nicer, rounder design with a fabric-bound speaker than its predecessor.
It can connect to a larger audio system via Bluetooth or a standard 3.5-millimeter audio cable for an even fuller sound. This is at a perfect price point for gifting the beginner who wants to transform their crib into a smart home!
76
Pin It for Later!