Black History Month: Events That Celebrate Black Culture
These are events that energize, educate, and entertain — all while honoring and celebrating Black excellence
Virtuous Con: Black History Month February 12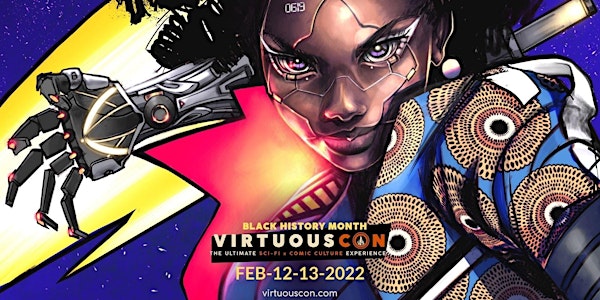 Virtuous Con 2022 Black History Month….A New Narrative
Are you excited? Virtuous Con: Black History Month is this weekend!
February 12th-13th. BUY YOUR TICKETS FOR OUR VIRTUAL EVENT TODAY.
Program: 11am-6pm ET
Vendor Floor Show: 12noon – 7pm ET
Black Joy. Black Courage. Black Innovation. Black Creativity. You've asked for it. It's HERE (because indie Black creators have been telling these stories for YEARS!) and yet, all too often, you still can't find the inspiring, uplifting, fantastic stories you want.
Fortunately, there is a NEW NARRATIVE out there that is gaining force, a narrative that is inclusive, boundary-breaking, and unchained! In 2022, Virtuous Con: Black History Month is bringing these New Narrative creators straight to your living room. The BEST in cutting-edge comics, brilliant new books, and artists who challenge your ideas and your senses.
Look No Further. We've Got What You Need. It's just a click away.
Get excited for our incredible panels!
This February 12-13, we're bringing you over 20 hours of programming.
Here is a preview of some of our panels. See full panel list HERE.
Luke Cage 50th Anniversary (w/ special guests David F. Walker, Cheo Hodari Coker, Aida Croal, Akela Cooper, and Evan Narcisse): The discussion will center around Luke Cage being a legacy Black comic book character introduced by white creators but "remixed" for modern audiences by Black creators and actors.
Power Center: Animation in Color (w/ special guests Peter Ramsey, Ashley Crystal Hairston, Pearl Low, Kimson Albert, Frank Abney, Jeff Trammel, and Monique Henry Hudson): From blockbuster animated films, to beloved animated television and indie projects; we've seen more Black talent in this space than ever before. We chat with some incredible creatives in this space who share their opinions on representation and intersectionality in animation, and the future of the tools, techniques, and opportunities in animation.
What It Takes: Getting Black Narratives to the Screen (w/ special guests Prentice Penny, Tananarive Due, Steven Barnes, Malcolm Stewart, Sebastian Jones, and Angélique Roché): It's always great when you hear about a Black creator who is bringing their passion project to the screen or stage, but there's often a LONG road in between. Join us as our distinguished veterans of the industry break down the real deal on what the journey entails – from concept to negotiations, to production, and more!
LGBTQ+ Contributions in Black History & Stories: Contributions by the LGBTQ+ community can be found in every corner of the globe, within every industry imaginable, but too often their presence is denied or silenced. Our incredible panelists use their own methods of communication to share stories and truths about the trailblazers and unsung heroes who pushed the movement for Black liberation and freedom for all people forward. Panelists: Doctor Jon Paul, Nick Porter, McKensie Mack, and Diamond Stylz (M)
Free Your Mind: Black Narratives in Comics: Comics and graphic novels require a very unique and specific set of story telling skills. Our panelists discuss why they chose this medium as storytellers and how they are using it to bring their most expansive visions of Black people – in the past, present, and future – to life. They will also share their take on how interactive technologies can be used to bring the comic experience to the next level. Panelists include: Jason Reeves, T.J. Sterling, Micheline Hess, Julie Anderson, Regine Sawyer, and Antonio Pomares (M)
…And More!
Your ticket includes:
• All access to the program panels and vendor room for both Saturday and Sunday
• A FREE download of Julie Anderson's "A New Narrative" art work, made exclusively for Virtuous Con 2022's Black History Month Event. (Preview cool artwork above).
• Entrance into a Grande Prize Giveaway where 2 attendees will win a gift bag with print copies of artwork, books, and comics from Stranger Comics, Otaku Noir, Rae Comics, Tuskegee Heirs, Keef Cross (Day Black Comics), Beverly Jenkins, Kwame Mbalia, Jordan Ifueko, Cerece Rennie Murphy, M.V. Media and more…tickets are $5-$10
Date and time
Sat, Feb 12, 2022, 10:00 AM –
Sun, Feb 13, 2022, 6:00 PM CST
Location
Online event
Refund policy
Contact the organizer to request a refund.
Eventbrite's fee is nonrefundable.